Illustrated by
Charles van Sandwyk
The Folio Society presents a glorious new edition of Lewis Carroll's immortal tale, illustrated by acclaimed artist Charles van Sandwyk.
Alice in Wonderland
Lewis Carroll's extraordinary dream of a world – or world of a dream – has seeped into our collective consciousness like few other books. Filled with outlandish creatures and quizzical conversations, its apparent nonsense is underpinned by its own logic, which surely makes it the most imaginative tale ever written. Widely adapted, it has also been translated into 176 languages, including Cockney, Middle Breton and three languages of Zimbabwe.
'Carroll possessed an unforced genius for the most brilliant nonsense and deliciously mad dialogue'

Guardian
Tinted title pages and a spectacular new binding design reflect the magic of Carroll's incomparable story, while Charles van Sandwyk's series of charming colour plates and black-and-white drawings neatly capture its many iconic characters. Van Sandwyk has also hand drawn gorgeous new endpaper maps.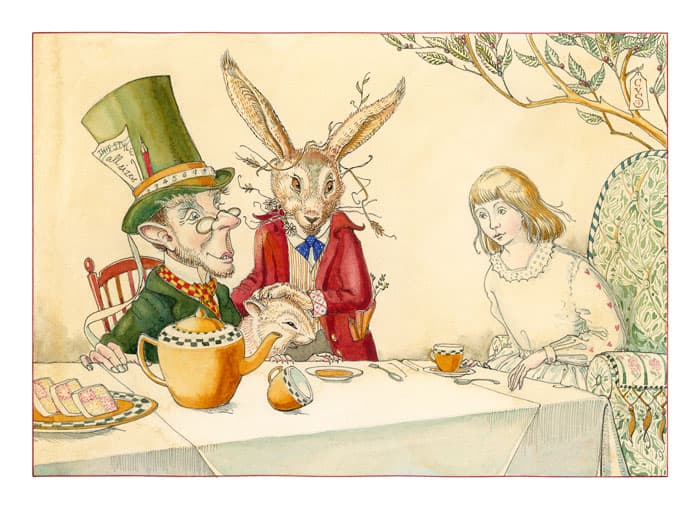 Production Details
Bound in blocked cloth with an inset printed label
Set in Adobe Caslon
168 pages
37 integrated colour illustrations and 44 black & white illustrations
Printed map endpapers
Printed slipcase
10˝ x 6¾˝
Selecting an artist to portray this seminal story
Beautiful design detail in this stunning gift edition
About Charles van Sandwyk
Back
to top
Show
More