This Folio Life: Dolpo, Nepal 1973 and 2016
Among the best-loved travel books ever written,
The Snow Leopard
has gained a reverential following among trekkers and natural history enthusiasts. In 1973, naturalist and novelist Peter Matthiessen accompanied field biologist George B. Schaller on a research expedition to study the rare Himalayan blue sheep. Here Schaller looks back on the original journey and describes how he recently retraced his steps, more than forty years later.
Tom Walker, Publishing Director
In late 1973, Peter Matthiessen and I trekked to the Dolpo uplands in northwest Nepal. His quest was to meet the elusive snow leopard and become familiar with Tibetan Buddhism. Mine was to study the behaviour of the wild blue sheep. 
The Snow Leopard
was Peter's lyrical book about our journey across the Himalayas, in which he evocatively describes the emotional and logistical problems of our venture. Four decades later, in 2016, Peter Werth asked me if I would like to return to Dolpo. He and his family foundations in Connecticut have for several years helped Dolpo communities by providing electricity through wind and water power, by building schools, and in other ways. Also, in 1984, the Nepalese government established the 3,555 km
2 
Shey-Phoksundo National Park there, and I was interested in its impact. Curious to learn about all these cultural and environmental changes, I readily agreed to join Peter Werth. Included in our team was Alex Matthiessen, Peter's son. So, too, was photographer Beth Wald to document our journey. And in Kathmandu we were joined by Tshiring Lhamu Lama and her sister Sonam Choekyi Lama who are from Dolpo, having been born and raised in Ringmo village. They were a wonderful addition to the team for they spoke the local Tibetan dialect and knew many of the people: their presence consolidated trust within our team. We start our journey from the Juphal airport on September 13, 2016. With us is a camp staff of seven, and eleven horses and mules carrying food and other baggage for our six weeks in the field. Four days later we reach Ringmo on the shore of turquoise Phoksundo Lake. The ancient village of crowded, flat-roofed stone houses has not changed over the decades. Tshiring's family receives us joyfully, happy to have their daughters home. I cannot erase the memory of the troublesome 1973 Ringmo porters who abandoned us in deep snow on the upper slopes of a 5,300 m pass, the Kang La.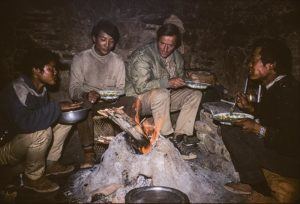 Inside the windowless, smoke-filled hut in which the team lived during their time at Shey. Left to right: Gyaltsen, Jang-bu, George Schaller, Phu-Tsering. Photographs © George B. Schaller. Beth Wald has made prints of my photos of the porters and villagers from that trip. Semdak, Pasang, and Sonam Tenzin, three porters now in their late fifties and sixties, are startled to recognise themselves after forty-three years. All three say they have no recollection of that trip. There is also a photograph of an old woman and her two grandchildren digging potatoes.
A mother, Kunga Lama, harvests potatoes at Ring-mo while her daughter, Lhamo Lama, holds the yak. Another child stands by ready to help. Photographs © George B. Schaller. The grandmother has since died, and the boy is away, high in the hills herding livestock. But the girl, Yungdung Sangmo, now forty-nine years old, is here. We meet her, a smiling, dumpy woman twirling yak wool into threads on a hand-held spindle. She offers us yak-butter tea, which we gratefully accept. I have been reclaiming the past in the present with resurgent memories. Alex has been travelling in his father's footsteps and, as he explains in
his introduction to The Folio Society edition of The Snow Leopard
,
his focus this time is on my father. And Beth photographs everything with new eyes. Instead of moving on to Shey over the difficult Kang La, we select a lower and easier pass, the Mentok La. Near the pass, beside a boulder, we see a snow leopard dropping. The cat has eaten blue sheep. That is as close as we come to a snow leopard on this trip, as far as I know. We reach Shey Gompa on September 22. The word 'gompa' means 'place of peace', and for me it is a return to a home of my past. On the slope above is a herd of blue sheep, and nearby the holy Crystal Mountain remains a guardian of the valley. During our brief stay here, I have a duty to perform. By the gompa is a centuries-old accumulation of mani stones: a prayer wall in which each stone is inscribed with Buddhist scripture. In 1973, I had found in the dust of a nearby trail a broken fragment of a mani stone and taken it home. It had lain on my desk silently but insistently wanting to return to its rightful home in Shey. Together with Tshiring, I now place the stone among the others and bow. A rosy finch hops before us among the rocks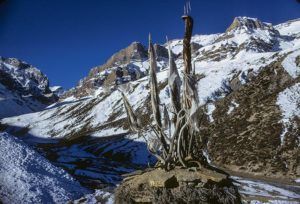 Antlers from a Sikkim red deer on a pedestal in front of the Shey monastery. The holy Crystal Mountain is in the background. Photographs © George B. Schaller.
Our thanks go to George B. Schaller for contributing this blog. He is a zoologist, conservationist, author and photographer – twenty of his previously unpublished photographs from the original journey illustrate our new edition of
The Snow Leopard
. One of the world's pre-eminent field biologists, he has spent most of his working life in the field in South America, Africa and Asia, and many years on the Tibetan Plateau, studying its wildlife, including the wild yak, the Tibetan antelope and the snow leopard.
View and order our edition of The Snow Leopard.