This Folio Life: Reader's Choice
Folio's raison d'être is to publish the books Folio readers most love, in a form worthy of their contents. In order to find out which books you really want to read, and reread and reread, we conduct surveys and talk to individual customers, but we also from time to time publish a Readers' Choice title. This is a book that Folio readers have specifically chosen for us to publish. This year's Readers' Choice was quite a special case. Sophie Lewis Managing Editor
The story behind the stories
This autumn, we're publishing
The Folio Book of Great Short Stories
. Not just any old bundle of classic shorts, this, but a highly select, meticulously chosen showcase of some of the world's very best pieces of short fiction. The process of putting it together involved a unique collaboration with Folio Society readers. During a flurry of voting in September last year, you picked your unmissable short stories from a distinguished shortlist of fifteen. Once the votes had been counted, there were some clear favourites, and we're excited to announce that we have been able to include the seven most popular readers' choice selections, which join the ten core stories in our edition.
Selecting the core collection
Knowing that we wanted to include older classics as well as new, and seminal works from around the world as well as some home-grown English essentials, we took months to settle on a core collection of vital masterpieces by the likes of Anton Chekhov, Edgar Allan Poe, Ernest Hemingway, Katherine Mansfield and Mark Twain. We eventually settled on ten stories that could not be left out: incontestably brilliant works, glowing with their authors' particular styles, each very different from the others yet all worthy companions.
What did you choose?
We left the choices for the remaining stories in the anthology entirely up to you. Your final
Folio Book of Great Short Stories
will include Charles Dickens, Robert Louis Stevenson, Nikolai Gogol, Dorothy Parker, Angela Carter, Octavia E. Butler and Hilary Mantel. There is also a light-hearted essay by the highly acclaimed story-writer Yiyun Li about this particular gathering of short fiction luminaries. It's hard to see how we could have assembled a more dazzling company.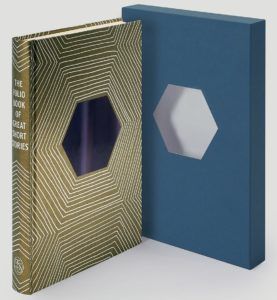 The Folio Book of Great Short Stories
will be available to buy in September, available exclusively from
www.foliosociety.com