This Folio Life: Encapsulating Plath's turmoil
Sylvia Plath's The Bell Jar tells the achingly sad and darkly humorous story of a woman's spiralling descent into breakdown. Painter and sculptor Alexandra Levasseur talks through two of her illustrations for Folio's The Bell Jar, and how she worked to encapsulate Plath's turmoil.
STARTING THE CREATION PROCESS
The images I created to illustrate Sylvia Plath's The Bell Jar felt pretty straight forward in general. The visions that appeared in my mind when I was reading Plath's words were totally clear despite the surreal characteristics of her thoughts.
Two of my eight illustrations, however, had a really interesting creation process: the binding artwork and the Fig Tree illustration.
IDEAS FOR THE BINDING
My first idea for the cover was to illustrate Esther at the Amazon hotel in NYC. I was looking for a scene that would give a feeling of vertigo, which, for me, is the main sentiment of The Bell Jar.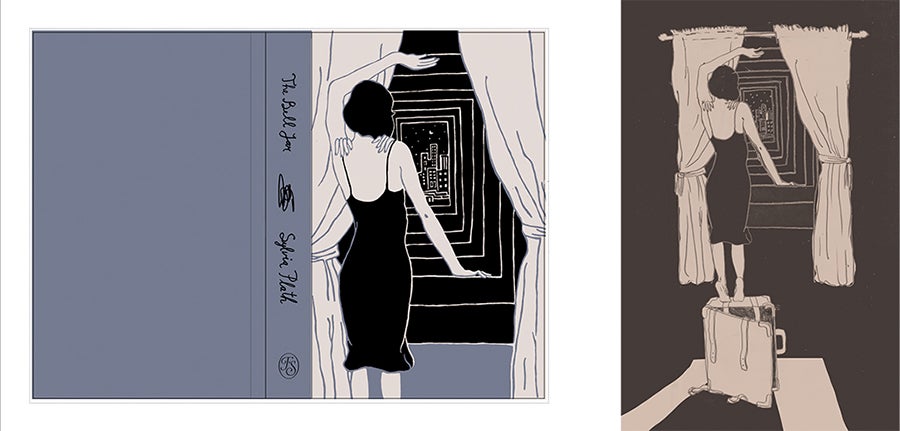 My second idea evolved from the black balloon metaphor in the book. I saw the black balloon as a synonym for Esther's dark thoughts mixed with a sense of lightness and playfulness; it was an accurate reflection of the spirit of the whole narrative. I paired it with Esther's uncomfortable, dizzy body and stressed hands.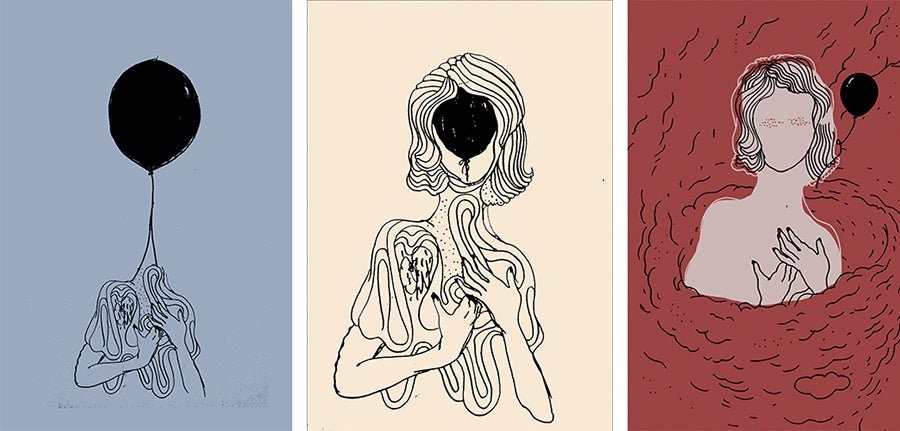 Then, I explored the idea of a tornado, inside and outside of Esther, as well as the eye of the tornado putting some make-up.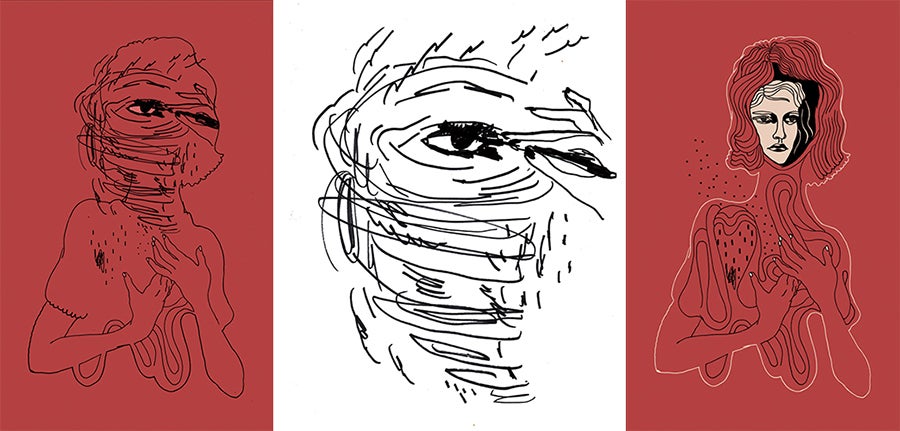 Finally, we opted for a representation of Esther; anesthetized, trying to feel her unquiet body.
ILLUSTRATING THE FIG TREE
The illustration of the Fig Tree was not an easy one to do but I loved that passage too much to let it go.
"I wanted to crawl in between those black lines of print the way you crawl through a fence, and go to sleep under that beautiful big green."
Coming from an animated film background, I would have loved to make this scene into animated drawings with all the dreamy and surreal aspects implied in the described action. However, I had to simplify the idea to make the illustration more powerful as a static image. That being said, I believe The Bell Jar would make a wonderful animated film. I'm in!