The Life and Opinions of Tristram Shandy, Gentleman
Illustrated by Tom Phillips RA
Preface by Patrick Wildgust
Limited to 750 hand-numbered copies
Editorial material by Melvyn New
Over Half sold
The ultimate edition of this comic masterpiece newly illustrated and signed by Tom Phillips RA
Tristram Shandy
One of the greatest works of imagination in English literature ——————— this hilarious fictional autobiography of a hapless anti-hero tore up the rules of novel-writing when the novel had scarcely been invented.
The Folio Society's unique limited edition has been designed, illustrated and signed by an equally extraordinary artist —— Tom Phillips RA. Rising to the challenge presented by such an experimental work, Phillips has packed his instantly-recognisable collages with verbal and visual puns, to form the perfect pictorial counterpart to Laurence Sterne's comic masterpiece.
What is all this story about?——
A COCK and a BULL, said Yorick —— And one of the best of its kind, I ever heard.
Production Details
Limited Edition
750 hand-numbered copies signed by Tom Phillips
Limitation page printed letterpress by Hand & Eye on Hahnemühle Bugra Bütten paper and tipped-in by hand
Bound in Charmante-Gwebe cloth printed and blocked with a design by Tom Phillips
Title blocked in gold foil on spine
512 pages set in Founder's Caslon and printed on Abbey Pure paper
10 illustrations by Tom Phillips, including frontispiece, printed on Veltique paper
Marbled page by Jemma Lewis tipped-in by hand
Gilded top edge
Ribbon marker
Commentary
Preface by Patrick Wildgust, curator at Shandy Hall
Editorial material by Melvyn New
Bound in Iris cloth blind-blocked with a design by Tom Phillips
Title blocked in gold foil on spine
180 pages
Slipcase
Cloth-covered slipcase with top and bottom lips
Blocked in dark red foil on one side with a design by Tom Phillips
Lined in Art Vellum paper
10½" x 7¾"
Laurence Sterne's comic masterpiece
Tristram Shandy is a book that defies classification, as Sterne drew on, and even plagiarised his literary heroes – Montaigne, Rabelais, Burton, Swift and Cervantes – to create something uniquely his own. It sets out as an attempt by its title character to give a meaningful account of his life, and his efforts to overcome its inauspicious beginnings – but Tristram finds himself constantly thwarted by the irrepressible urge to make digressions focussing on an array of eccentric characters, including his wildly opinionated father, Walter Shandy, his mild-mannered Uncle Toby, a wounded ex-soldier obsessed with creating scale-models of military sieges, the predatory Widow Wadman, and Sterne's own literary alter-ego, Parson Yorick.

Everything about Tristram Shandy is unusual: its stream-of-consciousness, conversational style; its bizarre chronology, with sentences that start in one volume and are completed in another, and the whole tale ending several years before Tristram has even been born; its encyclopaedic range, from moments of high sentiment to the bawdy humour of its laugh-out-loud set-pieces.
But most striking of all is Tristram's own idiosyncratic presence as author and narrator, as he suggests that readers should skip over pages, attempts to sell the dedication to the highest bidder, opportunistically inserts a preface while his main characters are asleep, and claims to have torn out a whole chapter because it was too well-written and would have overshadowed the rest of his book.
It is hardly surprising that Tristram Shandy's inventive style and distinctive authorial voice have been championed and imitated by writers as varied as Thomas Mann and James Joyce, Salman Rushdie and Friedrich Nietzsche, Karl Marx and Virginia Woolf.
Laurence Sterne (1713-1768)
I wrote not to be fed but to be famous

Laurence Sterne
Laurence Sterne spent the majority of his life in relative obscurity as a provincial clergyman in rural Yorkshire. He started work on Tristram Shandy at a difficult time, as his wife was emerging from a temporary bout of insanity, and ended up paying for the first two volumes to be printed, having struggled to find a publisher.
When the volumes appeared anonymously in 1759, they caused an immediate sensation, described as 'Shandy fever'. Their runaway success transformed Sterne's fortunes, catapulting him to celebrity and giving him instant access to the most elevated circles: friendship with the acting superstar David Garrick; his dedication of Tristram Shandy to the Prime Minister, William Pitt, officially accepted and his portrait painted by Joshua Reynolds. Over the next eight years, Sterne continued to publish volumes of Tristram Shandy in instalments, finishing with the ninth volume in 1767, the year before his death.

Key to Sterne's mystique was his ability to blur the boundaries between his fiction and his life, which involved behaving in public like both Tristram and Parson Yorick – or as he put it, 'Shandying it' – and describing his own financial struggles and battles with chronic ill-health, directly addressing his critics, and even reprinting one of his own sermons in Tristram Shandy itself. Despite achieving the recognition that he craved, Sterne died in debt. In a twist worthy of one of Tristram's tales, his corpse was later stolen by grave robbers, only to be recognised on a dissecting table at Cambridge University by anatomy students, who happened to be ardent fans of his work. His skull and femur have now been reburied outside the church near Shandy Hall in Coxwold where he used to preach.
Tom Phillips RA
Tom Phillips (born 1937) is one of the greatest polymaths that England has produced — equally renowned as an artist, poet, photographer and composer. He has had a long association with Sterne's work, and shares many of his preoccupations: the creation of fragmentary and chronologically jumbled narratives; the recycling of texts and pictures to generate fresh meanings; playing with artistic alter-egos; and a desire to test the limits of what a book can do. These new illustrations – a striking frontispiece and an intriguing image for each of the nine volumes that make up Tristram Shandy – draw on materials as diverse as magazine pictures culled from The Boy's Own Paper and Picture Post, William Hogarth's iconic print Characters and Caricaturas, postcards from Phillips' own extensive collection and snippets of the text itself.
Rather than representing specific scenes from the book – Sterne is such a 'visual' writer that this approach hardly seems worthwhile – Phillips has produced allusive images that encapsulate its unconventional spirit.
The text and commentary
The main volume presents the full text of Tristram Shandy, as established by Melvyn and Joan New in their authoritative Florida Edition of The Works of Laurence Sterne. To allow for easy cross-referencing, a separate commentary volume contains the indispensable introduction and notes by Melvyn New, a carefully updated bibliography and an invaluable glossary of technical terms for military fortifications.
Also included is a playful new preface by Patrick Wildgust, tireless promoter of Laurence Sterne and resident curator of Shandy Hall, the parsonage where Sterne wrote the bulk of Tristram Shandy. It gives a rare first-hand insight into Tom Phillips' carefully-constructed illustrations.
Extract from the preface
Gender 
Portraits of individual women depicted on 'Real Photograph' postcards occupy the margins of the eighth image. These unknown ladies surround a beautifully constructed collage of text that is almost a meditation. All of the female characters in the novel are represented in the clippings of text – even Poor Maria, that enigmatic character in both Tristram Shandy and A Sentimental Journey. Tom Phillips is a remarkable finder of postcards – his collection runs to thousands and many are now archived in the Bodleian Library. Bill Hurrell realises that this image is very close to depicting the compassion that Sterne feels towards his fellow humans. The cosy pair seated around the open fire represent the 'love­ romance' referred to in the text, as well as deliberately echoing the fireplace in the old kitchen at Shandy Hall itself.
Patrick Wildgust, curator at Shandy Hall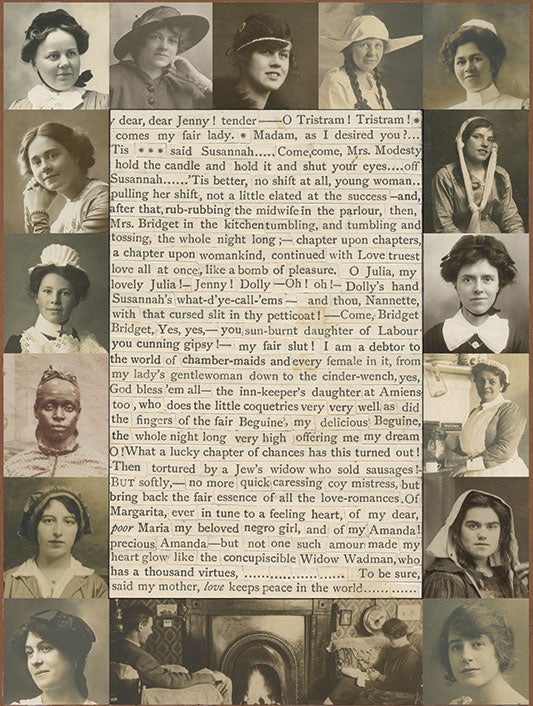 What makes this limited edition so special
Sterne was determined that Tristram Shandy would give his readers a visual experience unlike any other book, packing it with eye-catching features that pushed the boundaries of printing: blacked-out pages to lament the death of Parson Yorick; a blank area for readers to draw their own vision of the amorous Widow Wadman; wiggling lines to represent the meandering progress of the story or the dramatic flourish of a character's stick; missing chapters that throw out the page-numbering; and a text littered with asterisks and an astonishing variety of dashes. All these are faithfully reproduced in this new limited edition.
But one feature of the first edition of Tristram Shandy made each individual copy unique: the marbled page that suddenly appears in Volume 3. Marbling is an extraordinarily labour-intensive process and was a rare technique in 18th-century England. Every one of these pages had to be folded, hand-dipped to create a unique pattern, and inserted. Unlike most modern printings, we have replicated this feature, with exquisite marbled pages created by Jemma Lewis. Using a vast colour palette, Jemma has produced an extensive range of classic designs on Fabriano Ingres paper including Italian Vein and Turkish Spot, Nonpareil and Peacock, Tiger's Eye and Spanish Ripple. Just as there is an element of chance in the production of these eye-catching pages, so there will be an element of chance about which of these glorious patterns each collector receives. But it is certain that no two copies of this exclusive limited edition will be identical, just as Sterne himself intended.
The text follows the authoritative Florida Edition of 1978 but with one important addition. Folio bought an 1802 edition of Tristram Shandy which included the score of Uncle Toby's favourite air 'Lillibullero'. This is reproduced in the main text and not consigned to the notes.
Sterne took the unusual step of signing thousands of copies of the first edition himself, in a desperate attempt to address piracy and a glut of fake sequels. Obviously, this feature cannot be reproduced, but our entire edition of 750 copies has been signed by Tom Phillips on an elegant letterpress-printed limitation label.
In addition to the ten fabulous frontispieces – one for the book itself and one for each of the nine volumes, Tom Phillips has also created complementary binding designs for each element. These incorporate printed cloth and gold blocking on the limited edition, blind blocking mirrored on the front and back of the commentary and dark red metallic foil blocking on one side of the slipcase. We hope the images in the gallery above give some sense of the splendid results.
When it came to manufacturing the first edition of Tristram Shandy, Sterne was determined that it would 'go perfect into the world' and advertisements proudly declared the use of 'super-fine Writing Paper'. The text and illustrations of our edition are printed on Forest Stewardship Council certified papers – most certainly super-fine and sustainable too. We are certain that collectors will agree that this new and very special limited edition, of one of the most influential books in the English language, is as perfect as it is possible to achieve.