Illustrated by Sam Wolfe Connelly
Introduced by Michael Dirda
With a personal note by Francis Ford Coppola
F. Scott Fitzgerald's enduring classic The Great Gatsby is beautifully presented as a Folio Society edition that includes a personal note by Francis Ford Coppola and exquisite artwork by Sam Wolfe Connelly.
'One of the greatest works of American literature ... a timeless evocation of the allure, corruption and carelessness of wealth.'


The Times
Narrator Nick Carraway tells the story of his neighbour Jay Gatsby, whose parties at his Long Island mansion are as lavish as his past is mysterious. Yet Gatsby cares only for one of his guests: his lost love Daisy Buchanan, now married and living across the bay. Arguably the greatest American novel of the 20th century, Fitzgerald's simple story has captivated readers, filmmakers and fellow writers for generations. This striking edition exudes the glamour and style of the 1920s with Sam Wolfe Connelly's art deco-inspired illustrations and binding design, as well as an exclusive introduction by Michael Dirda and a note by Francis Ford Coppola, who wrote the screenplay for the fêted 1974 film.
Bound in buckram blocked with a design by the artist
Set in Goudy
184 pages
Frontispiece and 6 colour illustrations
Printed endpapers
Printed slipcase
9˝ × 5¾˝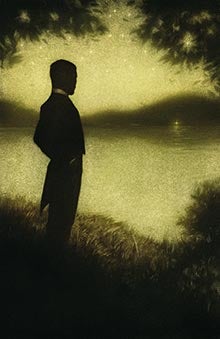 'And I like large parties. They're so intimate. At small parties there isn't any privacy.'


from The Great Gatsby
On its first publication in 1925, The Great Gatsby was largely dismissed as a light satire on Jazz Age follies. Today, it is acknowledged as a masterpiece: a love story, an exploration of the American dream and a scathing portrayal of wealth and entitlement. In Fitzgerald's hands, this deceptively simple story becomes a near-perfect work of art, told in hauntingly beautiful prose. Adapted for the screen many times over the years, the novel has been a magnet for renowned filmmakers, most notably Francis Ford Coppolla in 1974 and Baz Luhrman in 2013, and the brilliantly drawn characters and lavish costume and production opportunities has led to much success at awards ceremonies.
Michael Dirda, a Pulitzer Prize-winning columnist for The Washington Post, has contributed a new introduction for this edition. He writes, 'While a great novel should possess many qualities, the most essential is certainly the ability to enchant, to cast a spell over the reader' – an ability possessed in full by 'this ever-fresh, this ceaselessly magical novel'. Our edition also features a personal note by the director and screenwriter Francis Ford Coppola, who recalls his work on the 1974 film adaptation, in particular his ingenious solution to the lack of dialogue between Daisy and Gatsby in the original novel. This edition has been designed to reflect both the novel's era and Fitzgerald's inimitable style, which embraces romance and tragedy. New York-based artist Sam Wolfe Connelly has created a series of colour illustrations and a striking binding design, while the metallic endpapers and slipcase are printed with his 1920s-inspired design.
Francis Scott Key Fitzgerald was born in 1896 in Minnesota. He had a love of writing from an early age and his first story was published in his school newspaper when he was 13. He graduated from the Newman School in 1913 and went on to study at Princeton University. Here, he wrote articles and stories for magazines and eventually dropped out to join the army. His first novel, This Side of Paradise (1920) received critical acclaim and he went on to write The Beautiful and the Damned (1922), The Great Gatsby (1925) and Tender Is the Night (1934), as well as a number of short stories. Fitzgerald died in 1940.
Michael Dirda is a Pulitzer Prize-winning literary journalist, a weekly books columnist for The Washington Post, and the author of five collections of essays: Readings (2000), Bound to Please (2005), Book by Book (2006), Classics for Pleasure (2007) and Browsings (2015). He has also written the memoir An Open Book (2003) and On Conan Doyle (2012), which received an Edgar Allan Poe Award from the Mystery Writers of America. His current project is a reconsideration of popular fiction during the late 19th and early 20th centuries. He has written introductions to The Great Gatsby (2013), Dune (2016), East of Eden (2017) and Atlas Shrugged (2018) for The Folio Society.
Sam Wolfe Connelly lives in New York City. He studied Illustration at the Savannah College of Art and Design in Savannah, Georgia, graduating in 2011. His clients include Penguin Books, Playboy magazine, the New York Times, the Sundance Film Festival and Entertainment Weekly. He works primarily in graphite, colouring his finished drawings digitally. In addition to working as an illustrator, he frequently shows his artwork in galleries around the world. In 2013 he illustrated The Great Gatsby for The Folio Society and went on to illustrate our edition of Emma in 2015.