Provincial Morals
Illustrated by Nushka
Introduced by Karl Ove Knausgård
Translated by Adam Thorpe
Limited to 750 hand-numbered copies
Sensitively translated, beautifully bound, and illustrated with original oil paintings, this is the ultimate edition of a literary masterpiece
Gustave Flaubert's timeless tale of thwarted relationships has been described as the first modern novel. For this exquisite new limited edition, we have selected Adam Thorpe's critically acclaimed translation for its authenticity and fluidity; the text complemented by French artist Nushka's superb oil paintings, commissioned by Folio. An extract from Henry James's essay on Madame Bovary offers an appraisal of the work on first reading, while multi-award-winning author Karl Ove Knausgård's exclusive introduction considers the novel from a contemporary perspective. The Douppion silk binding, printed with a Nushka painting and blocked in gold, the letterpress-printed limitation label signed by Thorpe, Knausgård and Nushka and tipped in by hand, and a collector's print by the artist, complete this remarkable limited edition.
Madame Bovary is the perfect novel, and it is the best novel that has ever been written.

Karl Ove Knausgård
Production Details
750 hand-numbered copies signed by the translator, the introducer and the artist
Limitation label printed letterpress and tipped in by hand
Bound in Douppion silk printed with a painting by Nushka
Title blocked in gold foil on spine
336 pages set in Galliard and printed on Abbey Pure Rough paper
10 colour plates, including frontispiece, printed on Natural Evolution Ivory paper
Translation by Adam Thorpe
Introduction by Karl Ove Knausgård
Foreword by Henry James
Gilded page tops
Ribbon marker
Cloth-covered slipcase
11⅓" x 7½"

Separate print by Nushka, presented for framing, printed on Natural Evolution Ivory paper
The masterpiece that shaped modern literature
First serialised in 1856, and published in two volumes a year later, Flaubert's masterpiece is considered one of the greatest books ever written and also one of the most influential. Radical in both its stylistic innovation and its scandalous content, it is as absorbing today as it was over 150 years ago.
From the vagaries of family circumstances and parental dictates, to relationship torpor, unrequited love and brief blissful moments of carnal desire, Madame Bovary explores the human condition with a searing realism that was unprecedented in literature at the time. Although the prose is beautiful and often poetic, the characters are reassuringly humdrum, the settings are familiar and workaday, and Emma Bovary's romanticised and unrealistic notion of love is repeatedly shattered by her over-attentive, or non-committal, lovers.
Madame Bovary caused controversy from the outset and was banned for its content, with Flaubert arrested and put on trial for offending public morality. After his acquittal, the novel was published in its entirety and became an instant bestseller. Flaubert dedicated the book to his lawyer.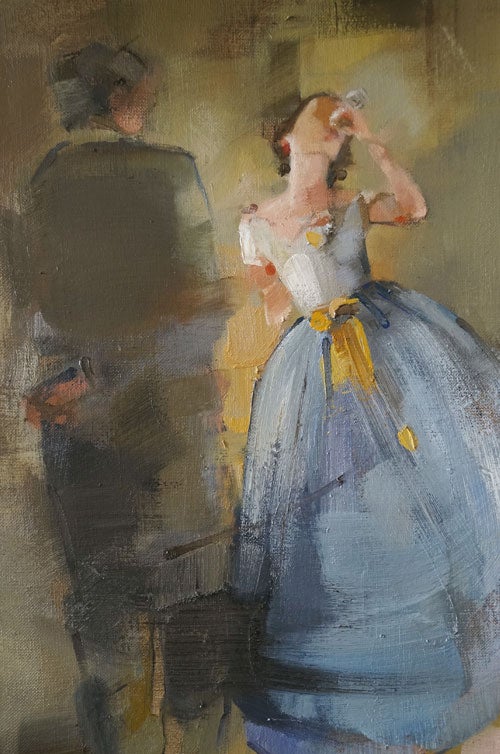 Gustave Flaubert (1821–1880)
Gustave Flaubert was a solitary man who, aside from a brief interlude studying law in Paris, which was cut short by illness, spent most of his life at the family home near Rouen. The founder of 'free indirect discourse', a style that merges character and narrator, the French author spent a gruelling five years writing Madame Bovary. At the time of publication, Flaubert was considered a maverick, and his debut novel would remain the critical climax of his career. However, despite its acclaim, Madame Bovary was not financially successful and Flaubert's later years were marred by penury.
The novelist of today continues to write in Flaubert's shadow

Karl Ove Knausgård
Superb translation
Celebrated poet, playwright and novelist Adam Thorpe was born in Paris, and after many years living abroad, he moved back to the city with his family. Widely acclaimed, his 2011 translation of Flaubert's modernist masterpiece includes only pre-1857 vocabulary and expressions. Authentic yet highly readable, it was the natural choice for our edition.
New introduction by Karl Ove Knausgård
Hailed as one of the greatest literary sensations of the 21st century, Karl Ove Knausgård enjoys cult status both in his native Norway and internationally. In his newly commissioned introduction exclusively for this limited edition, Knausgård is effusive in his appreciation of Madame Bovary, observing that today's novelists 'write in Flaubert's shadow'. This admiration of the writer's achievement was foreshadowed by Henry James. In a foreword written in 1904 and included in this volume, he recalls reading the 'finest of Flaubert's novels' and knowing that it was 'one of the first of the classics'.
Original oil paintings
Marseilles-based Nushka studied painting under the guidance of several mentors and has exhibited widely in Europe and America. Over the course of a year, the figurative artist immersed herself in the character of Emma Bovary, working with life models in period costumes, at historical locations, to create a collection of 11 exquisite oil paintings. These subtle, sensual compositions include a stunning separate collector's print for framing.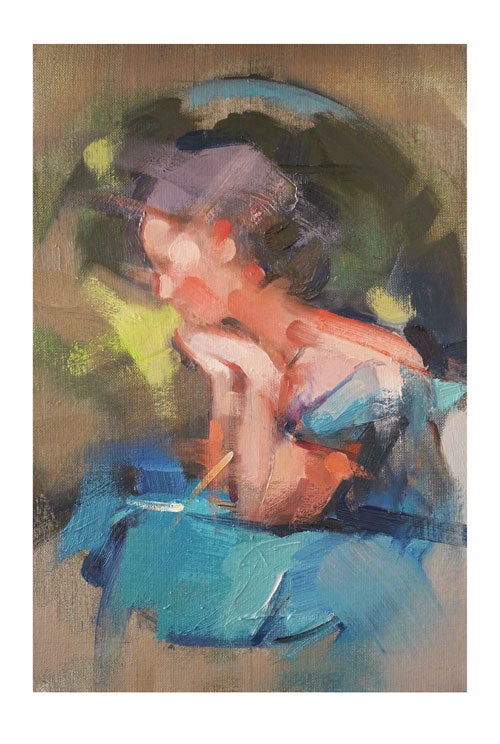 I spent a whole year dedicated to Madame Bovary. I wanted to address every part of the character and her story.

Nushka
What makes this limited edition so special
One of the most exceptional aspects of this limited edition must be the binding. Rarely have we bound books in real silk and certainly we have never before attempted to print such a fine material with the image of an original oil painting. The lustrous beauty and texture of the Douppion silk, enhanced with natural irregularities and printed with Nushka's image of the eponymous heroine with her reflected image, represents Emma Bovary perfectly. After myriad trials the silk was lined with delicate tissue to achieve the spectacular results and, with each cover being made by hand, and each piece of natural silk being unique, every single binding of the limitation is also unique. The luxurious design is completed with the blocking of the title and author in gold foil on the spine.
French artist Nushka is an extraordinary talent. She took her first painting lessons with Maggie Siner and her mentors include Hashpa and Zawacky. She dedicated herself to this project for a year addressing Emma Bovary's character and story in great depth. Nushka's immersive working practice is apparent in every brushstroke of her sublime oil paintings and she became so associated with her subject that the fabulous collector's print, of Emma Bovary in repose, is a self-portrait. Protected in a folder of shimmering pale gold paper, this is a superb piece for you to frame.
For the additional editorial material, our team were keen to include an early piece of writing by Henry James about Flaubert's earliest novel. But for an introducer? Although we knew that Karl Ove Knausgård was passionate about Madame Bovary, to secure an exclusive new introduction from such an acclaimed writer is remarkable.
And then of course there is the Forest Stewardship Council approved paper, the limitation label signed by the translator, the introducer and the artist and printed letterpress by Hand and Eye, now known as Social Enterprise Printing Ltd. Choosing complex binding designs and including signatures naturally limits the quantity of a book which can be produced and there will only ever by 750 copies, each numbered by hand, of this, the ultimate edition of Flaubert's literary masterpiece.