This Folio Life: Researching Horatio Hornblower
Joe McLaren, working in consultation with Brian Lavery, former curator of Maritime History at the National Museum, Greenwich, created a series of characterful illustrations that convey the drama and spirit of Hornblower's sea exploits for our new three-volume set. Getting the details of the period correct was obviously key – and, as Joe describes below, the books also had a personal family connection for him.
Tom Walker, Editorial Director
Under my grandfather's influence
The reason I knew
C. S. Forester's Hornblower books
is because my grandfather had them on his shelves. He had joined the Navy at Chatham Dockyard in the 1920s, having run away from his home in Chatham town at the age of 14, to relieve his mother of the expense of his upkeep, and left a letter to explain with the parish priest. By the time of the Second World War, he was captain of a minesweeper. He never talked of the War, except in terms of the day-to-day challenges: technicalities, customs and the small dramas of life at sea in command of a smallish vessel. He must have seen much to recognise in the
Hornblower
stories. He once offered a bottle of rum to the first man among his bored crew who could shoot a seabird with sufficient precision that it would fall through the main funnel to the engine deck, thus improving morale and also his crew's marksmanship at the same time. With a minor change of jargon and hardware, this could certainly have been one of Horatio Hornblower's own little schemes.
Visiting Chatham Dockyard
As luck would have it I now live a half-hour's walk from Chatham Dockyard, which has changed almost beyond belief since my grandfather's day, although not beyond recognition. It is certainly much quieter, cleaner and stiller than it would have been during its centuries as a working dockyard. It is beautifully preserved and retains a collection of model ships and artefacts from the Age of Sail that have been very useful indeed. In particular, there is a vast model of HMS
Victory
.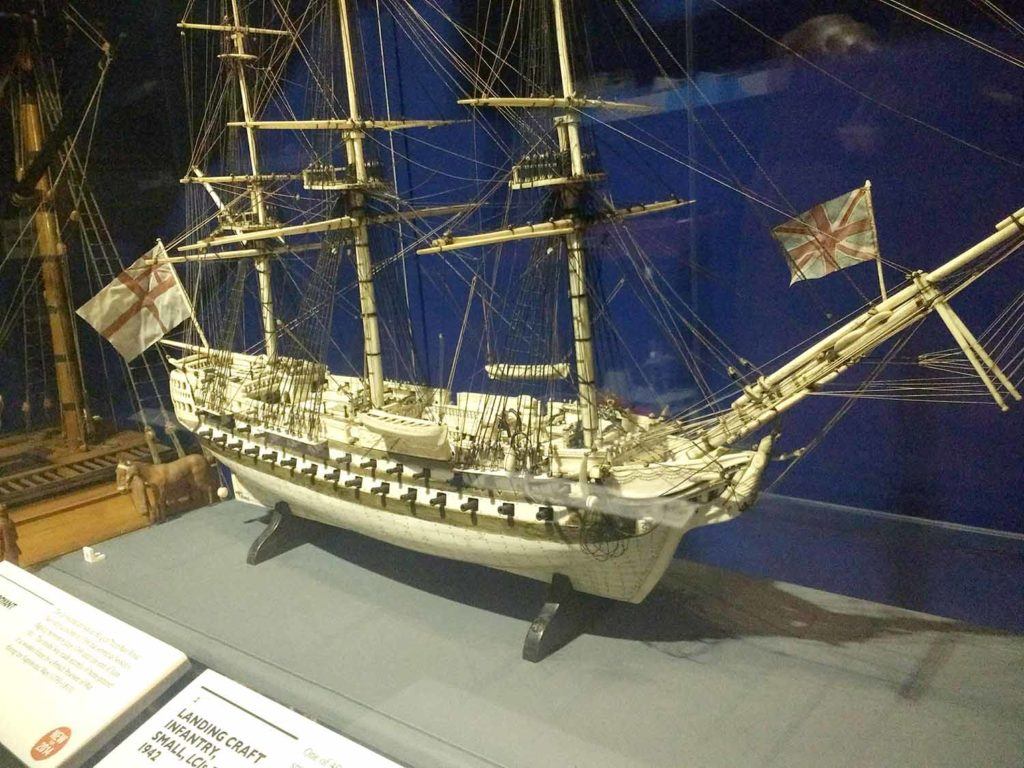 Although
Victory
is a much larger vessel than any crewed or captained by Hornblower (especially in the earlier stories that form this trilogy of books), it is wonderfully useful to be able to inspect and begin to understand the complex geometries of rope, wood, iron and canvas that kept such vessels afloat, housing many men and pursuing military objectives for months and years at a time.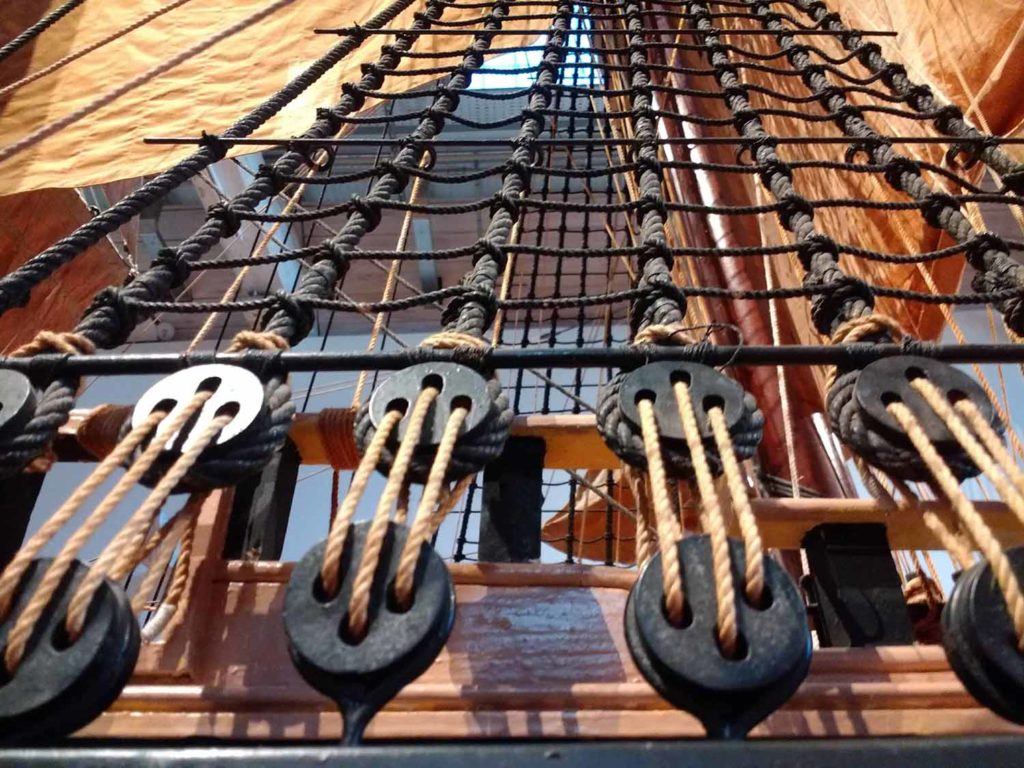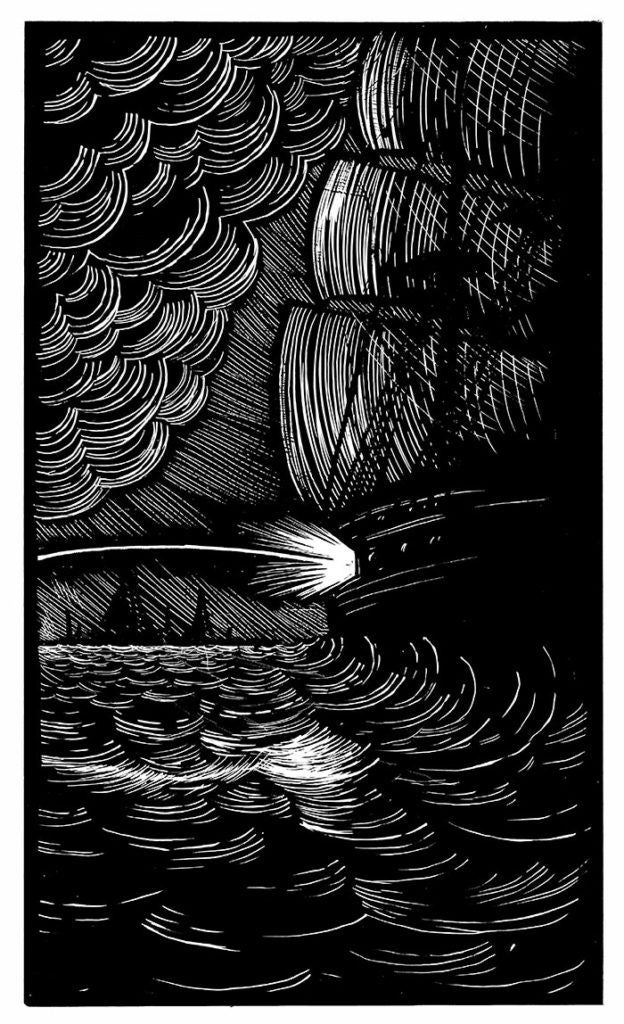 Knowing the difference between a sheet and a line
Forester is a very technical writer (a feat he somehow accomplishes without ever seeming dry or overly didactic) and the clarity with which he will explain a scene on board ship is both helpful and quite demanding for anyone wishing to translate words into pictures. I cannot pretend to be an expert as a result of the work I've done on
Hornblower
, but I do now know where to find the mizzen shrouds, the difference between a sheet and a line and what a belaying pin is for!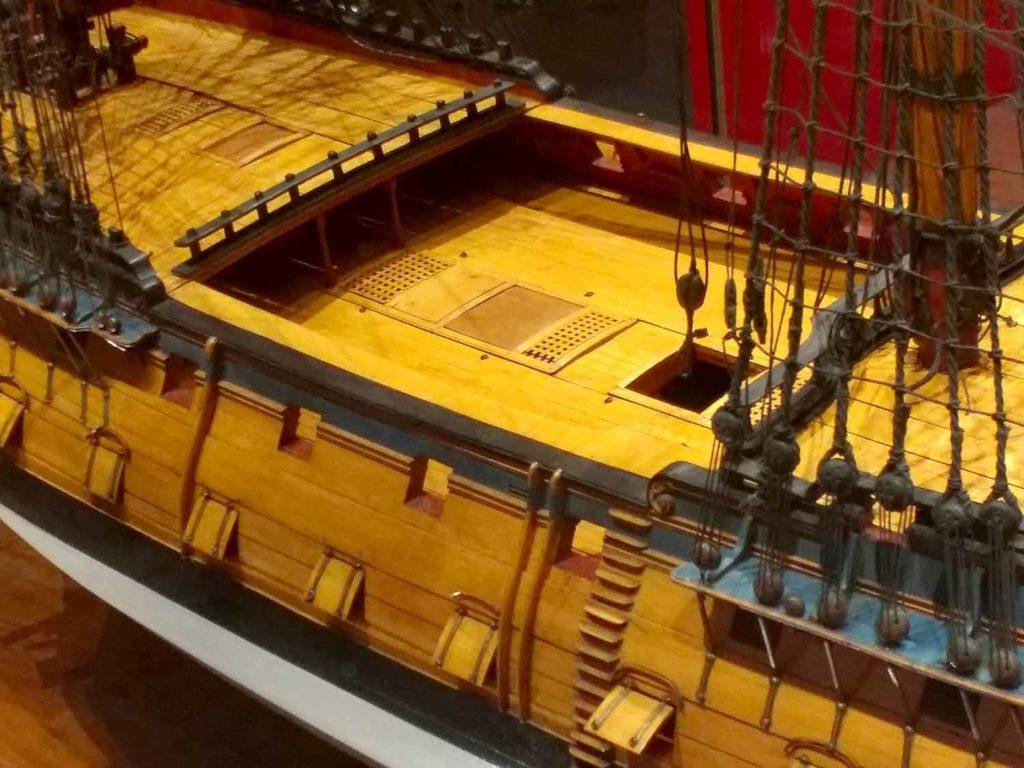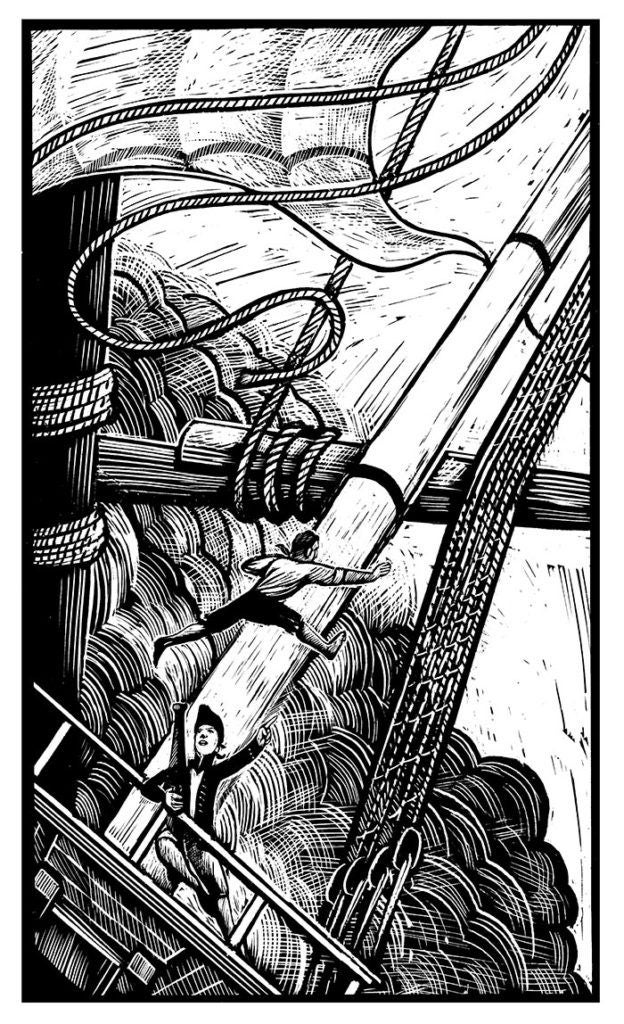 Our thanks go to Joe McLaren for contributing this blog. His work for The Folio Society includes artwork for titles by Anthony Burgess, William Cobbett and a host of historical writers. He is also known for his editorial work in the 
Times
 and
WIRED
magazine, among others. Joe most often uses scraperboard to create his images, a late nineteenth-century invention prized for its deep contrast and distinctive texture.
View and order our three-volume set of
The Hornblower Saga
.