Illustrated by Jonathan Burton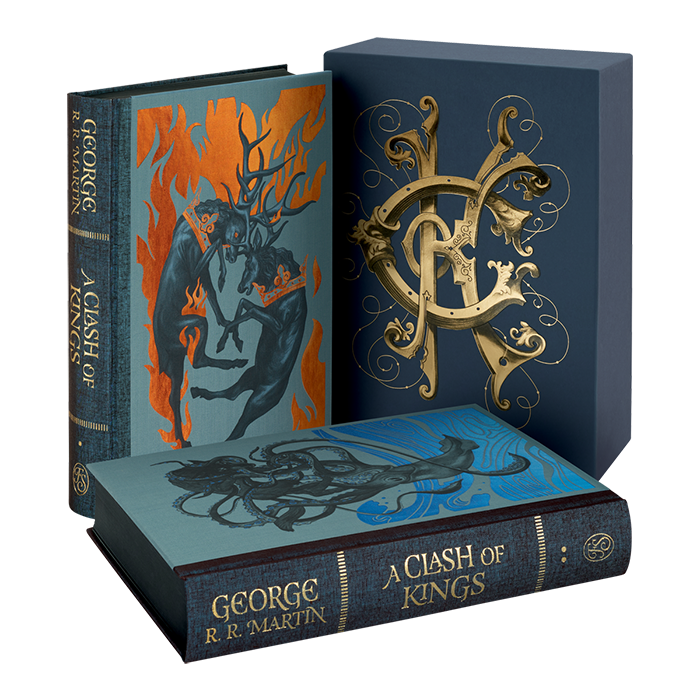 A Clash of Kings
'The brightest flame casts the darkest shadows'
The fight for the Iron Throne heats up in A Clash of Kings. George R. R. Martin barely gives the reader time to recover from the shocks of the first book as four potential kings come into contention. Meanwhile, our favourite characters face extraordinary trials simply to survive. Following on from The Folio Society's wildly successful edition of A Game of Thrones, this unique two-volume set is packed with details that fans will love, including specially designed chapter headings and spectacular bindings. Jonathan Burton returns to capture all the grandeur, spectacle and emotion, with six colour illustrations and a double-page spread in each volume. Described by Martin as 'masterpieces of the bookmaker's art', these are the finest editions of this generation's most celebrated fantasy series, and if the first volume is anything to go by, A Clash of Kings will soon be as rare as dragon eggs.
A Game of Thrones
'When you play the game of thrones, you win or you die…'
A story as epic as A Game of Thrones deserves an edition fit for the Iron Throne, and this lavish two-volume set drips with exquisite details. Award-winning illustrator Jonathan Burton has provided a series of gorgeous colour illustrations that take the reader deeper into the realms of Westeros than ever before. His work can also be seen in the stunning binding designs, the chapter heading illustrations, and even in a special image hidden on the inside of the unique slipcase. In an exclusive introduction, celebrated fantasy author Joe Abercrombie delves into how the book changed the landscape of the fantasy genre, while family trees – helping readers to keep their Lannisters separate from their Targaryens – have been designed at the end of the novel, alongside newly drawn House sigils. This spectacular set includes a new colour map of The Known World, folding out to reveal the full splendour of George R. R. Martin's remarkable creation.