The Turn of the Screw (Limited Edition)
Illustrated by Audrey Benjaminsen
Introduced by Colm Tóibín
Limited to 250 copies
Newly introduced by novelist and essayist Colm Tóibín, and beautifully illustrated by Audrey Benjaminsen, this superb Folio Society limited edition of Henry James's The Turn of the Screw is bound in leather and signed by both contributors.
'His story grows ever grimmer, ever scarier. Even so, for all its ingenuities of plot, the story's central issue, or question, can be baldly expressed: Is the governess mad?'


The New Yorker
It is Christmas Eve. A group of friends gathers by a roaring fire in an old country house, when one of their party promises a tale that: 'Nobody but me, till now, has ever heard. It's quite too horrible.' Widely regarded as one of the greatest ghost stories of all time, The Turn of the Screw instantly grips the reader and doesn't let go until the final chilling cliffhanger. Newly introduced by Colm Tóibín, whose writings on James are essential reading, our gorgeously foreboding collector's edition is illustrated by renowned fantasy artist Audrey Benjaminsen, who plays on the dark heart of this disturbing and timeless tale with her ethereal and unsettling illustrations.
A core edition of this title is also available here.
Bound in blocked goatskin leather
Set in Columbus
168 pages
Frontispiece and 5 full-colour illustrations
Integrated black & white decorations, chapter headings and tailpieces
Double endpapers, one set with signed and hand-numbered limitation label tip, one set printed
Gilded edges
Printed cloth slipcase
8¾˝ x 5½˝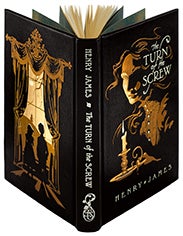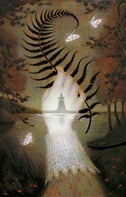 Bound in beautiful blocked leather, and signed by introducer Colm Tóibín and artist Audrey Benjaminsen, this stunning limited edition will stand out on any collector's bookshelf. Colm Tóibín has had a lifelong fascination with Henry James and his writings on the subject, including the prize-winning novel, The Master, show remarkable insight into James's work. In his exclusive introduction, Tóibín explores the background behind the story as well as James's ability to create abject horror from inference. Our edition also includes James's own preface to the book, and American multi-media artist Audrey Benjaminsen lends her fantastical, dream-inspired genius to six beautiful paintings that further contort James's ambiguous reality and disorientate the reader.
Of course I was under the spell, and the wonderful part is that, even at the time, I perfectly knew I was.

When a young governess is hired to care for two orphaned children in a country house, she becomes convinced that there is an evil force in residence, intent on harming her charges. As the menacing presence intensifies so does her paranoia, and she is consumed with fear and obsessed with the children's safety. But is evil really at work or is it all in her mind? The terror is partly down to the uncertainty: are the happenings proof that ghosts live among us, or the terrible consequence of an unstable mind? These equally unsettling conclusions do little to assuage an active imagination and James's eerie novel remains widely read and critiqued more than 100 years after publication. After all, if the author himself was spooked when reading the proofs of his book, what hope for the reader? 'When I had finished them I was so frightened that I was afraid to go upstairs to bed!'