Illustrated by Igor & Marina
Book 1 of the 'Wolf Hall' trilogy
The rise and fall of Thomas Cromwell is brilliantly portrayed in Hilary Mantel's Booker Prize-winning Wolf Hall. This Folio Society edition is illustrated by world-renowned fine artists Igor & Marina.
'I have always loved Folio books … I admire the craftsmanship, the attention to detail and the imaginative flair… Folio maintains and exceeds its own standards, and it is a pleasure and a privilege to be one of their authors.'


Hilary Mantel
England in the 1520s. Henry VIII is King; Cardinal Wolsey is his chief advisor and Thomas Cromwell is Wolsey's right-hand man. But in Tudor England allegiances are tenuous and the King's favour can change in a heartbeat. So, when Wolsey fails to secure Rome's support for Henry's longed-for divorce, his assets are seized, and his reputation ruined. Cromwell is well placed to step up to the King's side, but can he exert any influence over the volatile monarch? The first in what is widely considered the greatest trilogy of the modern era, Wolf Hall is wildly ambitious, brilliantly written and utterly enthralling; cementing Hilary Mantel's reputation as one of the greatest historical fiction writers. So eminent a novel requires the finest treatment reminiscent of the pomp and riches of the era, and this startling edition will be treasured for a lifetime. Award-winning artistic duo Igor & Marina have created 11 full-page pencil drawings of exceptionally fine detail, as well as a remarkable colour frontispiece and binding design featuring Cromwell.
Bound in printed and blocked cloth
Set in Adobe Caslon
600 pages
Colour frontispiece and 11 full page mono drawings with gold borders including one double-page spread
2 family trees
Ribbon Marker
3 gilded edges
Plain endpapers
Plain slipcase
10˝ x 6¾˝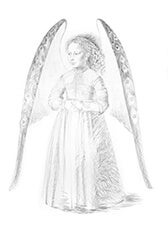 'A stunning book. It breaks free of what the novel has become nowadays. I can't think of anything since Middlemarch which so convincingly built a world.'


Diana Athill
Igor Kozlovsky and Marina Sharapova are a husband-and-wife artistic duo influenced by Russian religious art and the Renaissance. Widely exhibited and highly sought after for commissions, their work is coveted by international collectors. The opulent period style and exacting detail that distinguishes their art perfectly aligns with the book, as demonstrated by the colour frontispiece depicting Wolsey and Cromwell at ease against a grandiose backdrop: an artwork of staggering accomplishment and beauty. This is joined by 11 delicate and detailed black-and-white pencil drawings, each capturing historical figures in revealing scenes from the novel. The artists also painted a captivating portrait of Cromwell, hidden gracefully in the ornate binding design, while a ribbon marker, family trees and sumptuous gold page-edges complete this spectacular collector's edition.
After 20 years of marriage, Henry decides that his vows are null and void and he has, in fact, been illegally wedded to his brother's widow. However, the church proves harder to persuade and the King and his mistress – the wily and politically ambitious Anne Boleyn – must wait in limbo for his divorce to be granted. Mantel plunges the reader into the heart of this saga and places Thomas Cromwell at its centre. Ruthless, ambitious, charming and manipulative, Cromwell ran away from his abusive father at 14, inveigling himself into trades, households and offices all over Europe before returning to England to hold his own among aristocrats. In Mantel's hands, the glamorous and contentious world of Tudor London fizzes with political intrigue and mystery; the narrative sings, full of shifting perspectives and disconcerting storytelling, making Wolf Hall the staggering literary achievement it is known as today.
You May Also Like
Illustrated by Santiago Caruso

Illustrated by Santiago Caruso, our edition of Charlotte Brontë's beloved novel celebrates its gothic undercurrents.

Illustrated by Igor & Marina

Hilary Mantel's monumental trilogy continues with Bring Up the Bodies. Published in series with Wolf Hall, this lavish Folio edition is illustrated by celebrated artists Igor & Marina. 

In The Tudor Age, historian Susan Brigden brings to life the world of Henry VIII, Mary, Queen of Scots and Elizabeth I in a Folio edition superbly illustrated with colour portraiture.