Illustrated by Deanna Staffo
Introduced by Siri Hustvedt
Jane Austen's final novel shows her at her most moving and mature. Introduced by Siri Hustvedt, and illustrated by Deanna Staffo.
'Sir Walter Elliot, of Kellynch-hall in Somersetshire, was a man who, for his own amusement, never took up any book but the Baronetage.' With the opening of Persuasion, we appear to be in known Austen territory: the empty-headed Sir Walter, whose only reading is the Baronetage (mainly the page about himself), promises familiar delights. Yet the atmosphere of this book is as different from Austen' earlier works as autumn is to spring. Anne Elliot is haunted by her past mistake in turning down her first love, Frederick Wentworth, due to pressure from her family – misplaced persuasion. But a financial calamity will put her, unexpectedly, in the way of a second chance. Jane Austen's last finished novel, Persuasion shows her at her most moving, powerful and mature. As C. S. Lewis wrote, 'It is, in a sense in which the other novels are not, a love story.'
'Jane Austen, with her divine comedies of love, has always effortlessly renewed herself for each generation of readers'

Martin Amis
Production Details
Bound in metallic blocked cloth
Set in Baskerville
248 pages
Frontispiece and 7 colour illustrations
Blocked slipcase
9½˝ x 6¼˝
About Jane Austen
Jane Austen was born in Hampshire in 1775, the seventh child and youngest daughter of George Austen, rector of Deane and Steventon, and his wife, Cassandra. She began writing poems, plays and stories for her family from a young age, and her first published novel, Sense and Sensibility, was released by Thomas Egerton to sell-out acclaim in 1811. Pride and Prejudice (1813), Mansfield Park (1814) and Emma (1815) followed, and these were the last of Austen's works to come out in her lifetime. Her novels, including the posthumously published Northanger Abbey (1818) and Persuasion (1818), are today considered amongst the finest in the English language. She died at Winchester in 1817.
About Deanna Staffo
Deanna Staffo's illustrations are perfectly suited to the book's tone, particularly that which shows Captain Wentworth dropping his pen while writing his letter to Anne – one of the most significant, highly charged scenes in literature, and one of the most beautiful of love letters. So successful were the illustrations that an additional one was commissioned. The slipcase reproduces one of the novel's most famous lines.
Right: Illustrations for Jane Austen's Persuasion by Deanna Staffo from rough to final.
'Lady Russell felt this break-up of the family exceedingly'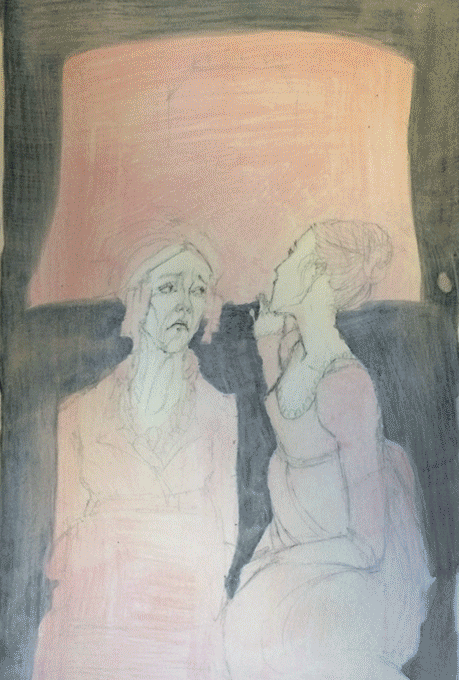 About Siri Hustvedt
Siri Hustvedt, prize-winning author and scholar, is the latest distinguished introducer for the Folio Jane Austen series. Her fascinating introduction examines the notion of 'persuasion' as part of the 18th-century New Rhetoric philosophy that would have been familiar to Austen's readers. She also charts the social changes revealed by the story, particularly in the conflict between the long-established but moribund Elliot family and Captain Wentworth, who has made his fortune in the Napoleonic wars. 'Old money has given way to new money, aristocracy to meritocracy.' Hustvedt writes that, despite its sadness, 'Jane Austen's last finished novel has become the book of hers I love best.'