The Letterpress A Midsummer Night's Dream
Limited to 3,750 hand-numbered copies
One of the most frequently performed of all Shakespeare's comedies, an enchanting meditation on the nature of love, gender politics and the supernatural
Lord, what fools these mortals be!


Act 3 Sc.2
Today, A Midsummer Night's Dream is one of the most popular and frequently performed of all Shakespeare's comedies. Around the world in traditional venues, gardens, parks and outdoor theatres, the magical qualities of this play enchant audiences time and again. Directors are drawn to the eternal themes of conflict between the sexes and between the natural and 'civilised' worlds of wood and city, while the portrayal of the supernatural fairies to a modern audience continues to challenge. Are they the quaint winged creatures later popularised in Victorian fantasy or more dangerous spirits surviving from pagan beliefs?
Production Details
Letterpress volume
Limited to 3,750 hand-numbered copies
Hand-bound in goatskin leather, blocked in gold with hand-marbled paper sides
Gilded top edge, ribbon marker
16pt 'Monotype' Baskerville, with Caslon display
Set in hot metal and printed letterpress on mould-made paper
Oxford University Press text under General Editor Stanley Wells
14˝ x 10¾˝
Commentary volume
This includes the text of the play with full explanatory notes
Bound in buckram
8¾˝ x 5¾˝
Presentation box
Bound in buckram
15˝ x 11˝ x 2¾˝
A lost world of myth and magic
The Christian feast of St John falls at Midsummer but the rites celebrated in Tudor times stretched back to pagan days. Certain plants were believed to have magical properties when used on midsummer night – they were said to give maidens a vision of their future husband – rather like Oberon's magic herb. This was just one of many folk traditions that Shakespeare included, harking back to rural beliefs, perhaps remembered from his own childhood in Warwickshire: of fairies who could stop the milk from turning to butter or mislead 'night wanderers' like a will o'th'wisp. Part of the appeal of these traditions to Shakespeare's audience was that the 'rites' alluded to in the play were already a fading memory, stamped out by Puritan reformers who saw popery and paganism in midsummer feasting and bonfires.
Love looks not with the eyes, but with the mind,
And therefore is wing'd Cupid painted blind.


Act 1 Sc.1
Shakespeare's comic genius in full flower
Shakespeare was writing A Midsummmer Night's Dream not long after Romeo and Juliet, and several academics have suggested that the 'tragical mirth' of Pyramus and Thisbe should be seen as a tongue-in-cheek parody of his own great romantic tragedy. Certainly the burlesque remains funny – a considerable achievement given the tendency of parody and satire to become dated. Yet from the buffoonery of the 'rude mechanicals' to the mix-up with the four lovers, A Midsummer Night's Dream must surely be the comedy whose humour has remained most accessible to modern audiences. Bottom, with his ass's head, asking for 'good hay, sweet hay' never fails to raise a laugh, while Hermia and Helena's plight – 'How low am I, thou painted maypole?' – leaps from the page, the dialogue still crackling with wit.
'I cannot imagine a more beautiful edition of this magical play'


David Walliams
A favourite play
A Midsummer Night's Dream is now the most frequently performed of all Shakespeare's comedies, but for nearly 200 years the play was only produced in an adapted form with additional musical and ballet insertions. David Garrick's version was retitled The Fairies. Some commentators believe that the play might have been written to celebrate a wedding, making the play-within-a-play even more of an in-joke. Felix Mendelssohn wrote incidental music to accompany the play and the Wedding March is now one of the world's most instantly recognisable pieces of music. Samuel Pepys saw an adaptation of the play on September 29, 1662 at the King's Theatre, and thought it 'the most insipid, ridiculous play that ever I saw' although he liked the 'handsome women'. For years, Puck was featured at the top of many Sunday comics, with the banner 'What fools these mortals be'.
'A play peculiarly perfect, ideally compact and coherent in its form'


Peter Holland
Creating The Letterpress Shakespeare
Since the First Folio in 1623 there have been countless editions of Shakespeare's works. The Folio Society wanted to do something unprecedented: to design an edition so pure, so simple, that the beauty of the text could be fully appreciated - an edition that would be as timeless as the text itself.
What would the ideal version of Shakespeare's works look like? What would result if simplicity and elegance were the goal rather than the dictates of fashion and cost efficiency?
These were the questions we asked ourselves when we embarked on our Letterpress Shakespeare series in 2006. The project was to occupy some of Europe's finest book designers, typesetters, paper-makers, printers and bindersfor eight years.
The starting point was the text. Rather than keep text and commentary together, we decided to put them into separate volumes. Out went the elements that clutter the page : footnotes and textual variants. All that was left was Shakespeare's words.
We decided to have the text printed by letterpress in 16-point Baskerville. The type is set in hot metal and impressed on thick, mouldmade paper. The margins are generous - over 6 centimetres - to allow the words room to breathe.
The result is a simple, understated design that is a delight to read and a pleasure to hold.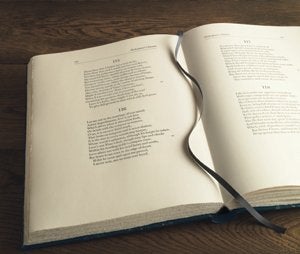 Inside the Letterpress Process
Stan Lane, a master Typesetter and Printer, talked to us about the process of printing our Letterpress Shakespeare. Lane has been setting type for The Folio Society for 25 years and is one of the few craftsmen still skilled in the fine art of letterpress printing. Although labour-intensive, letterpress has a depth and elegance that modern printing cannot replicate.
Jemma Lewis talked to us about the process of hand marbling paper for the Letterpress Shakespeare. In this beautiful process droplets of oil are floated on a special solution and combed into patterns so that each sheet of paper bears a unique design.