Illustrated by Gustave Doré
Introduced by Stephen Greenblatt
Translated by Professor M. A. Screech
Limited to 500 hand-numbered sets
Essay by Milan Kundera
This unique edition unites Rabelais's comic masterpiece translated into English with all Doré's renowned illustrations for the first time.
This superb set, limited to just 500 hand-numbered copies, replicates Gustave Doré's masterpiece, hundreds of illustrations for François Rabelais's seminal text and comic work of genius, Gargantua and Pantagruel. All five books are published in two volumes, with a brilliant English translation integrated with the illustrations for the first time. The edition also features a new introduction by Stephen Greenblatt and an essay by Milan Kundera.
Production Details
Limited to 500 hand-numbered sets
Quarter-bound in goatskin leather with cloth sides blocked in gold foil on front and spine
Set in Bulmer
Two volumes
1,000 pages in total
61 full-page engraved illustrations including the frontispiece
658 smaller engraved illustrations
Numerous ornamented initials throughout
Handmade cloth-bound slipcase printed in gold with designs by Doré
Gilded top edges
Ribbon markers
14¼˝ × 10¼˝
Gargantua and Pantagruel
The greatest prose narrative of 16th-century France, these tales of the giants Gargantua and his son Pantagruel were attacked as obscene by the Sorbonne. Nevertheless, they were to be found in the libraries of kings and cardinals. A champion of Renaissance humanism, influenced by Erasmus, Rabelais's feast of rhetoric offers profound and complex comedy. It parodies scripture, the law and tales of chivalry, and glories in obscenity and bawdy humour.
Each book has a distinct personality, but throughout there is a delight in language, an absence of moral censure and an exuberant sense of fun. Gargantua recounts the remarkable life of a royal giant starting with his birth through his mother's ear and charting his progress from dirty youngster to splendid prince. The first of the four books about Gargantua's son, Pantagruel, tells of his youth and introduces his roguish companion Panurge. In the subsequent books the pair undertake all manner of adventures, with much wit and wisdom, culminating in an odyssey in search of the Divine Bottle.
Cited by Milan Kundera as 'the first building block in the history of the novel', these are books of ideas told with much merriment and an extravagant freedom that were crucial in the development of Western literature.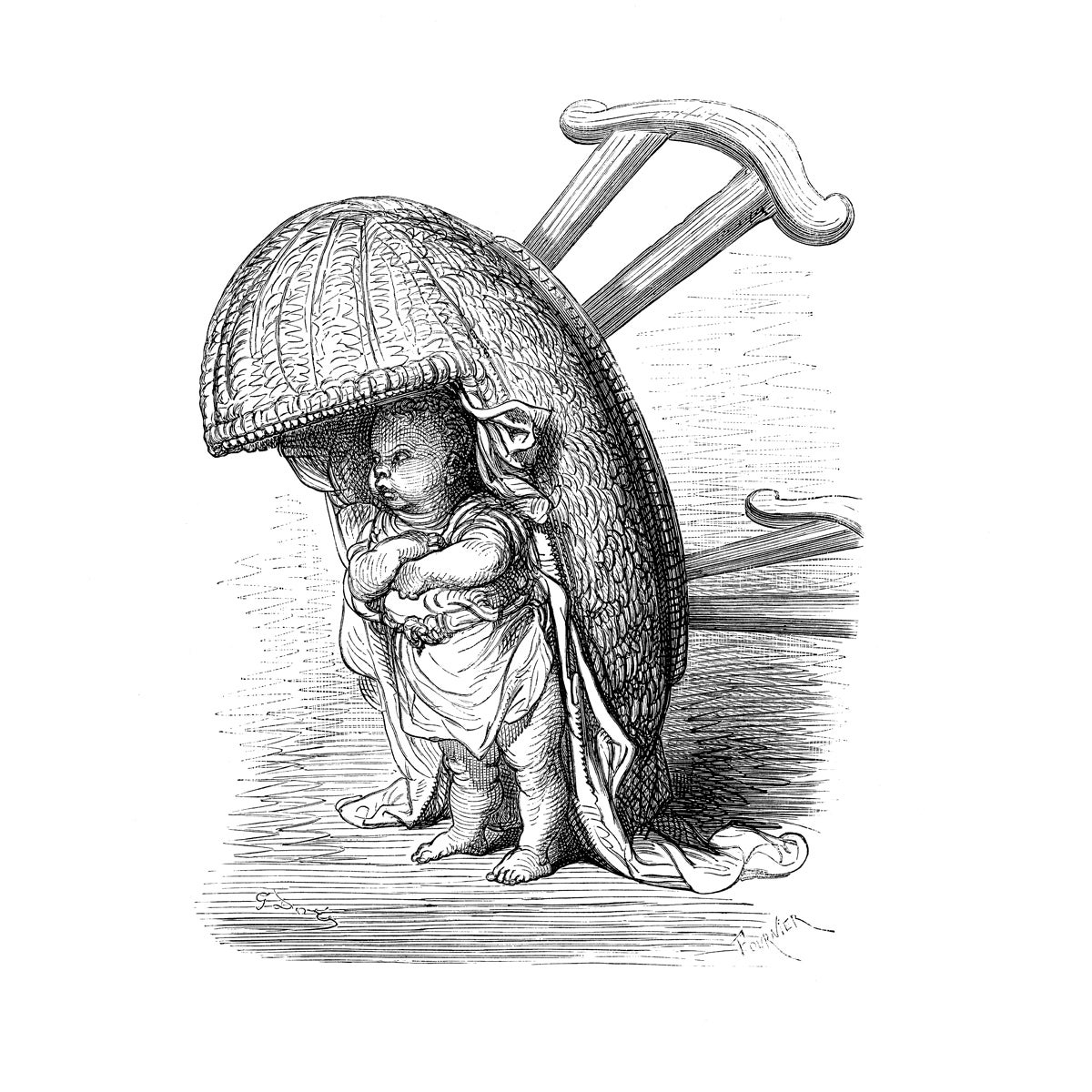 About François Rabelais (C.1490–1553)
François Rabelais was truly a Renaissance man – mendicant, monk and finally secular priest, he was both intellectually brilliant and delighted by the commonplace. His genius was acknowledged in his lifetime and his influence on literature has been enormous ever since. Rabelais was a student of law and a qualified doctor, but his life was anything but straightforward. Despite his vow of chastity, he fathered several children; two who survived infancy were legitimised by the Vatican, so influential were Rabelais's ecclesiastical supporters.
The name of Rabelais is a cordial to the spirits


William Hazlitt


Rabelais was hated by those his humour targeted and risked his life in publishing the books of Gargantua and Pantagruel; hence the first two books of Pantagruel appearing under the pseudonymous anagram Alcofribas Nasier. It was only the patronage of the powerful – both François I and Henri II protected him – and periods spent abroad or in hiding, that saved him.
About Gustave Doré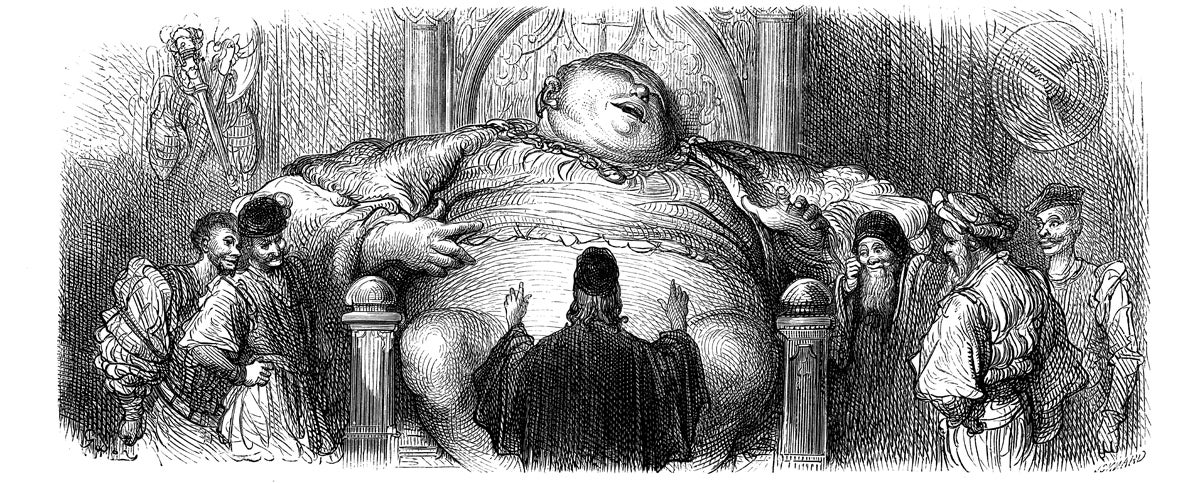 Doré's illustrations are the definitive images for Rabelais's humanist classic, but the whole body of work, completed over two decades, is rarely seen and has never before been available in its entirety with the text in English. Although he became the foremost illustrator of his day, Doré began his work on Gargantua and Pantagruel, for an edition first published in 1854, without a commission. In 1868 he agreed with the publishers Garnier Frères to contribute further illustrations, but it was not until 1873 that the new edition appeared with 61 full-page plates and 658 smaller pieces.
One of the wonderful things about Gustave Dore's celebrated illustrations is precisely their spectacular ambiguity, so perfectly attuned to the book's restless shape-shifting.


Stephen Greenblatt


The surreal imagery, the juxtaposition of the plausible and the implausible, the nobility, pathos and clever tricks of scale demonstrate both Doré's appreciation of the absurd and his superb draughtsmanship. For this Folio Society limited edition, the engraved illustrations have been scanned from originals of the 1873 printing – the first time in almost 150 years that this fabulous artwork has been published in its entirety in such stunning detail.
Translation by The Reverend Professor M. A. Screech
This renowned translation, first published in 2006, perfectly captures Rabelais's sublime mastery of language. A world authority on the Renaissance, Screech wrote extensively on Rabelais and was promoted Chevalier de la Légion d'Honneur in 1992 in recognition of his achievements. Before his death in June 2018, Screech was both senior research fellow and Chaplain of All Souls College, Oxford.
About Stephen Greenblatt
American literary historian Stephen Greenblatt is Cogan University Professor of the Humanities at Harvard University. Author of 13 books and winner of countless awards, he was awarded the Pulitzer Prize for The Swerve in 2012. The introduction for The Folio Society's Gargantua and Pantagruel was specially commissioned and is available exclusively in this new limited edition.
Essay by Milan Kundera
Czech-born French author Milan Kundera has written novels, short stories, essays and plays but is perhaps best known for The Unbearable Lightness of Being. His essay 'The Day Panurge No Longer Makes People Laugh' has been revised for the Folio Society edition of Gargantua and Pantagruel. It was originally published in Les Testaments Trahis in 1993.
A note on the text
The five books of Gargantua and Pantagruel by François Rabelais were originally published as Pantagruel (c.1532), Gargantua (1534), the Third Book of Pantagruel (1546), the Fourth Book of Pantagruel (1552) and the Fifth Book of Pantagruel (c.1564). This Folio Society edition uses the 2006 translation by M. A. Screech, rearranged to follow the French text used for the 1873 two-volume edition published by Garnier Frères and illustrated by Gustave Doré. We have followed the ordering of books, placing Gargantua before Pantagruel, as well as the titling and ordering of chapters. Different variant texts exist but, with some minor emendations (which have been included in this Folio edition), the 1873 Garnier Frères edition generally followed for the first two books the text of the definitive 1542 edition, for the Third Book the definitive 1552 edition, for the Fourth Book the original 1552 edition, and for the final book a forty-eight-chapter version consisting of the Isle Sonante text from 1562 and a manuscript text not in the hand of Rabelais.
The engraved illustrations have been scanned from the 1873 edition featuring 61 full-page plates (including the frontispiece portrait of Rabelais) and 658 smaller illustrations. These have been reproduced full-size and in their entirety. The ornamental initials have also been reproduced from this edition, apart from K, W and Y which were not required for the French text, and therefore were invented and drawn for our edition by David Eccles.
What makes this limited edition so special
In Gargantua and Pantagruel Rabelais undoubtedly wrote the greatest prose narrative of 16th-century French literature, and Doré's complete illustrations are widely regarded as definitive, but the images and text are so perfectly integrated in the Garnier Frères edition, in which they first appeared together, that the task of producing a version with the text in English has never before been undertaken. Enter Joe Whitlock Blundell, past master of Folio Limited Editions, who undertook to replace the existing text with M. A. Screech's entertaining translation so that, for the first time, those who do not read Renaissance French can appreciate this exceptional work with all 61 full-page plates and 658 smaller pieces printed at their original size. Joe also chose the typeface Bulmer for the text as, although this is an English face, it was influenced by the faces cut by French type founder Firmin Didot and therefore seemed appropriate for an English translation of a French work.
There are glorious ornamental initials throughout, but the French did not require the letters 'K', 'W' or 'Y'. Not to be thwarted we asked David Eccles, who has designed many a Folio binding in the past, if he could oblige. Fortunately, he accepted, and all three of the letters he has created are, unsurprisingly, delightful.
Our Senior Designer, Charlotte Tate, redrew, by hand, the spine decoration from the 1873 edition along with the elaborate lettering on the front boards, rendering the French into English where necessary for all but 'Tome' – which we retained in a nod to its French antecedent and because it was first used in English in the 16th century to denote a large and heavy book which seemed fitting. The border design was also taken from the original, although blocked in gold for added impact. The technique by which the original binding was produced was lost when the machines used were melted down to be turned into armaments for World War I but, being completists, the Production team at The Folio Society used all their ingenuity and skill to enable the intricate design, also with lettering redrawn by Charlotte, to be printed on the handmade slipcase in which the two volumes are presented together.
Finished with gilded top edges and woven ribbon markers and each numbered by hand, these sets are a worthy tribute to the Garnier Frères publication on which they are based and the ultimate edition of one of the greatest works of literature paired with the work of one of the greatest illustrators of his day.

You May Also Like
The Folio Society presents an exquisite gold-and-leather hardback of Essays by Renaissance nobleman and thinker Michel de Montaigne.

Illustrated by Kristjana S. Williams

The Folio Society presents Jules Verne's fantastical adventure Around the World in Eighty Days in a spectacularly fitting edition, replete with a giant fold-out map designed by sought-after artist Kristjana S. Williams.

Illustrated by Peter Suart

One of the great masterpieces of the 20th century, Mikhail Bulgakov's The Master and Margarita is beautifully crafted as a unique Folio edition with illustrations by Peter Suart and an introduction by Orlando Figes.