This Folio Life: Mapping out a classic journey by Jules Verne
A magnificent elephant with feathers for ears, a monkey with wings and a steamer on fire – welcome to the fantastical world of acclaimed Icelandic artist Kristjana Williams. She designed the fabulous Victoriana binding design for the Folio edition of Around the World in Eighty Days, as well as chapter heading illustrations and an incredible fold-out map.
A glance at Williams's West London studio clearly reveals her inspiration: shelves are stacked with antiquarian books of 19th-century engravings and watercolours. 'Before the era of photography there were thousands of people creating these,' she explains. 'They're perfect for the novel.'
Illustrating Verne's classic required verve to match the narrative, where rich bachelor Phileas Fogg is racing around the world against the clock to win a bet, but is beset by scrapes and confrontations. In Williams's hands, quirky fragments from vintage illustrations – a top hat here, a porcelain pot there – morph into her trademark tableaux of mythical creatures, lush foliage and majestic geography, infused with humour and visual riddles. The illustrations are scanned, cleaned up and overlaid against each other, to produce vibrant and dynamic images for the binding and large fold-out world map.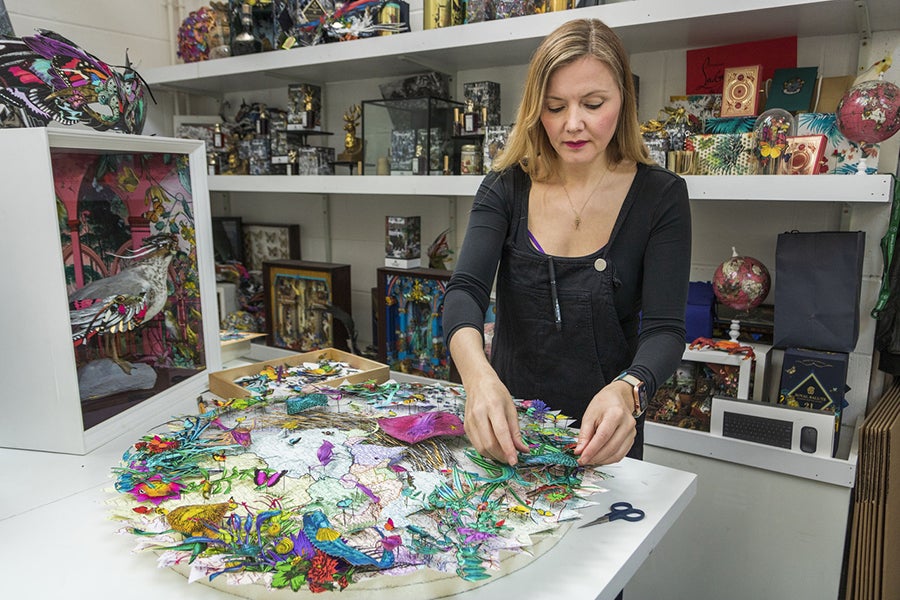 'You can really play with heritage colours – for the cover, I've gone for a more contemporary feel,' she says. A prominent clock is a vivid yellow, there are neon greens, deep pinks and crisp blacks. And the map tracking Fogg's journey is filled with clues of the tale within: the gas burner that Fogg's valet Passepartout forgot to switch off before departing, games of whist, a carpet bag and poppies for opium.
The nostalgia – exquisite engravings of the Sierra Nevada mountains, giant waves crashing against shores – transports you back in time, says Williams. 'It may seem laborious but it's a method that gives me an incredible amount of creative freedom.'
In fact, we love this artwork so much, we've added it to the wall in our office break-out area!