This Folio Life: Mapping Captain Cook
Maps are an incredibly important part of any edition that deals in exploration or travel. To celebrate the 250th anniversary of Captain Cook's first voyage, we knew we wanted to find the perfect map to accompany our
three-volume set of his Journals
. Our picture researcher, Faye, set out to track one down – and then it was over to Julie in our production department to reproduce it in style.
Tom Walker, Publishing Director
Our beautiful new
three-volume set of the Captain Cook's Journals
also includes a full-size, cased, fold-out chart of the voyages, which was originally drawn by Lieutenant Henry Roberts. The chart shows the paths of the three voyages and with just one glance you can see the extraordinary accomplishment of Cook and his crews, and follow them upon the high seas.
Henry Roberts was just 15 years old when he joined the Royal Navy as an able seaman aboard
HMS
Resolution
for Cook's second voyage, and then later served as master's mate during the third and final voyage: his log book, held at the State Library of New South Wales, gives a detailed account of the murder of Captain Cook. During the voyages he became a skilled cartographer and was later entrusted with preparing the charts for the final and official publication of Cook's journals; a task which took him around three years to complete. The chart first appeared for the publication of Cook's journals in 1784, and was then updated and published in 1794 by William Faden, who was the Royal Geographer to King George III. We have reproduced the 1794 version, and we know this because it includes discoveries made after the time of Cook's voyages, such as Lord Howe Island which was discovered in 1788 during the settlement of Europeans in Australia. [caption id="attachment_7005" align="aligncenter" width="720"]

The legend from the map (© National Maritime Museum, Greenwich, London)[/caption]
Producing the map
We looked at a number of museums, libraries and private collections to find a high-quality original printing of this map – they all vary slightly because they were hand-coloured after they were printed. Following a long search we decided to go with one housed at the National Maritime Museum in Greenwich, London, which is very colourful and well-conserved. We had the map re-photographed in high resolution in several sections so that all of the smallest details can be clearly seen, just as if you were looking at the original map. [caption id="attachment_7006" align="aligncenter" width="720"]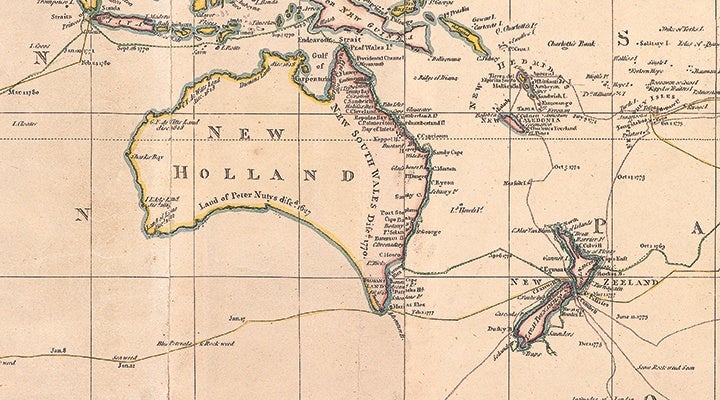 Detail from the map - see if you can spot Lord Howe Island (© National Maritime Museum, Greenwich, London)[/caption] Roberts's incredibly detailed world chart shows the extensive reach of the voyages and it also records first-hand observations made along the way such as 'turtle seen', 'land birds seen' and 'vast fields of broken ice'. Importantly, it also marks dates along the routes, which means you can read our edition of Cook's journals whilst following his journey on the map.
This blog is by Faye, Folio picture researcher, and Julie, Folio production manager.
Find out more and order The Journals, 1768-1779.