Illustrated by
Annette Hamley-Jenkins
Introduced by
Michael Morpurgo
One of the best-selling and most widely read books of all time, in this new Folio Society edition Anna Sewell's Black Beauty is introduced by Michael Morpurgo and embellished with nostalgic illustrations.
'One of the greatest books ever narrated by a horse, with a fine message: be kind to animals, and they'll be kind to you.'

Michael Morpurgo
Many writers spend a lifetime working towards literary recognition; Anna Sewell wrote a single book and it is still one of the best-selling titles of all time, having sold more than 50 million copies worldwide. Its longevity is testament to the simple yet enduring theme of animals' interaction with humans, and children still laugh and cry with the equine protagonist as sincerely as when Black Beauty was first published nearly 150 years ago.
Production details
Bound in blocked cloth
Set in Dante with Rumble Brave display
224 pages
Frontispiece and 5 colour illustrations
Running horse motif on text pages
Printed slipcase
9˝ x 6¼˝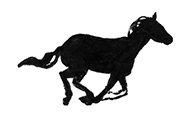 A horse at the mercy of human benevolence
An early work of animal rights awareness
Introduced by Michael Morpurgo
ABOUT ANNETTE HAMLEY-JENKINS
Back
to top
Show
More