This Folio Life: Illustrating Murakami's riddles
Japanese novelist Haruki Murakami's magical realist books have sold millions of copies worldwide and earned him a reputation as one of the greatest contemporary authors. We were very excited indeed to be publishing his work, and Kafka on the Shore is the perfect introduction to a unique and addictive style. But how would we decipher this story of unsolved riddles in an illustrated edition?
Who is the boy named Crow?
Murakami wrote that Kafka on the Shore 'contains several riddles, but there aren't any solutions provided'. One riddle refers to the protagonist, Kafka, who summons the wisdom of 'The Boy Named Crow' when he faces danger or dilemma. But who is The Boy Named Crow?
'Kafka' is the Czech word for 'crow', so could he be Kafka's alter ego or subconscious? His imaginary friend? The narrator himself? Or he might even represent fate, directing Kafka to fulfil his destiny. Ultimately, there is no right answer. As Murakami says of the riddles in his book, 'through their interaction the possibility of a solution takes shape. And the form this solution takes will be different for each reader.' In our edition, the speech of The Boy Named Crow is set distinctively apart in bold blue type but when it came to illustrating this – and the other riddles in the novel – we had to consider the choice of artist very carefully.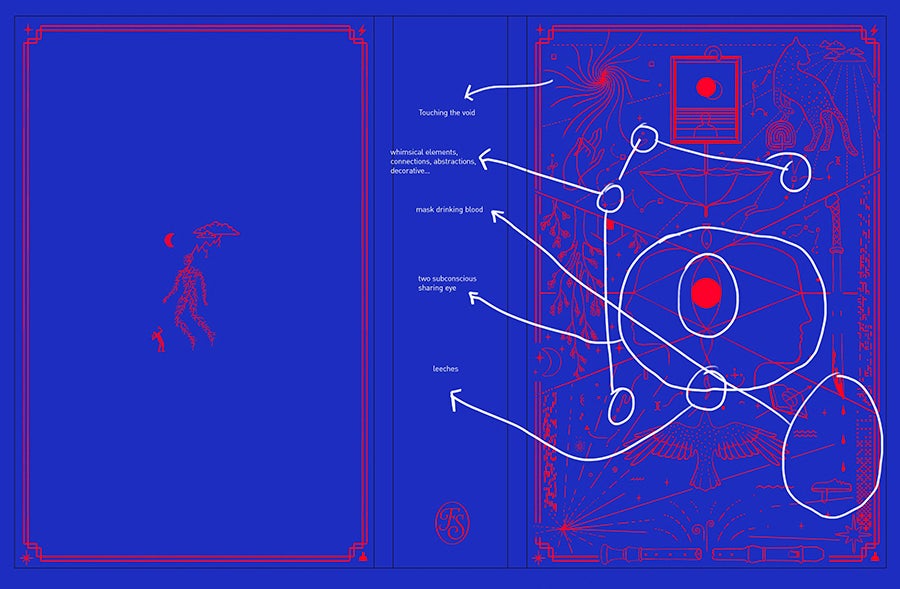 The perfect creative pairing
With his portfolio of abstract and thought-provoking work, Colombian artist Daniel Liévano was top of our list. An artist in constant evolution, Liévano saw an opportunity to take his work in a new direction with this commission. His first step was to re-read the book and trust his intuition. 'Murakami is a master in describing things we can't see; he has a unique way to go beyond describing a character or the scenes he creates. That gave me the freedom to do something more abstract. I didn't necessarily have to illustrate realistic images, just explore Murakami's ideas.'
An extraordinary illustrated edition
The artwork is truly original, and the illustrative journey maps Murakami's vision while allowing the reader to come to their own conclusion about the riddles posed in the novel. Liévano created seven illustrations, plus a cover design, 41 motifs and endpaper designs. The process marked a new phase in his work: 'My usual style is to be quite colourful, but the first thing I did in this project was to reduce the colour palette, using references from comics, which I love.'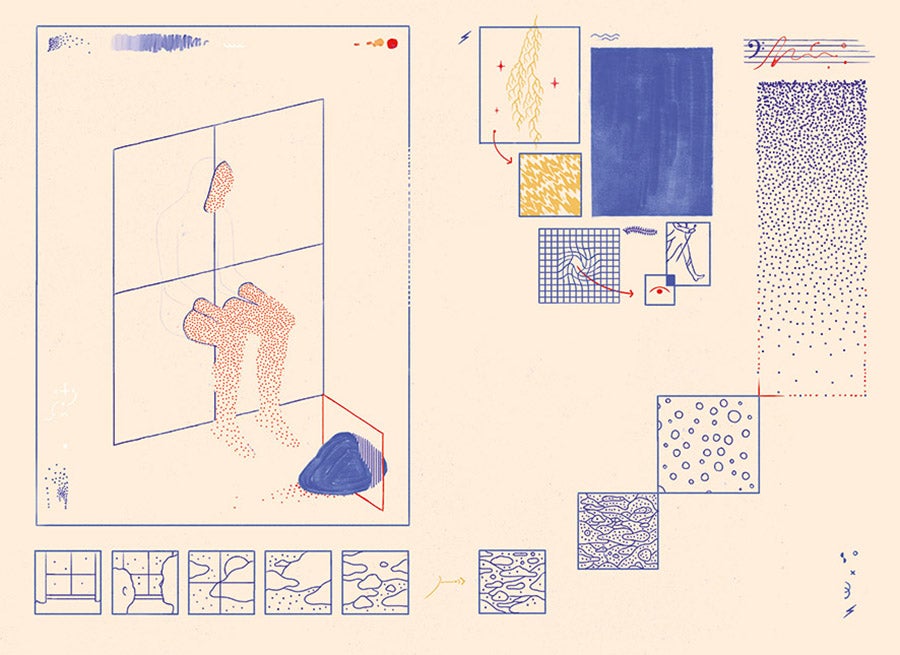 The feedback on Liévano's artwork has been extraordinary, with returning and first-time readers of Kafka on the Shore appreciative of the abstract style that demonstrates a sensitivity and deep understanding of the author's work. Here's one of our customer reviews:
'Truly inspired illustrations and book design for a volume that is classic Murukami. Author, illustrator and designer are excellent in each other's company.'
This beautiful edition now graces the shelves of Murakami fans around the world. If you haven't yet fallen under its spell, you can find out more in this short film: