Illustrated by
Jonathan Burton
First Printing
A Clash of Kings arrives fresh from the battlefield. The second volume of The Folio Society's bestselling realisation of George R. R. Martin's fantasy masterpiece 'A Song of Ice and Fire' is illustrated by Jonathan Burton.
A Clash of Kings
'The brightest flame casts the darkest shadows'
The fight for the Iron Throne heats up in A Clash of Kings. George R. R. Martin barely gives the reader time to recover from the shocks of the first book as four potential kings come into contention. Meanwhile, our favourite characters face extraordinary trials simply to survive. Following on from The Folio Society's wildly successful edition of A Game of Thrones, this unique two-volume set is packed with details that fans will love, including specially designed chapter headings and spectacular bindings. Jonathan Burton returns to capture all the grandeur, spectacle and emotion, with six colour illustrations and a double-page spread in each volume. Described by Martin as 'masterpieces of the bookmaker's art', these are the finest editions of this generation's most celebrated fantasy series, and if the first volume is anything to go by, A Clash of Kings will soon be as rare as dragon eggs.
Production Details
Bound in three-quarter blocked cloth with a printed and blocked cloth front board
Set in Vendetta with Esmeralda as display
888 pages in total over two volumes
6 full-page and 2 double-page full-colour illustrations per volume
Printed in black & gold throughout
8 illustrated chapter openers and 9 illustrated house sigils
5 Kings and their Courts and 8 family trees in Volume 2
Printed endpapers
Coloured tops
Blocked and printed slipcase with printed illustration inside
10˝ x 6¾˝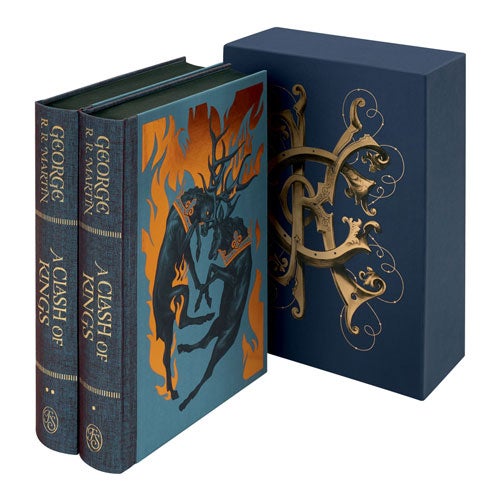 The long summer is over, and winter is coming
A feast of unique details
The fantasy journey of a lifetime
About George R. R. Martin
Back
to top
Show
More