The Letterpress The Tempest
Limited to 3,750 hand-numbered copies
The most powerful sorcery is Shakespeare's language. Complex, personal and unsurpassably lyrical: rediscover one of Shakespeare's most finely nuanced plays.
You taught me language, and my profit on't
Is, I know how to curse. The red plague rid you
For learning me your language!

Act 1, Sc. 2
In the First Folio of Shakespeare, The Tempest was placed first – an unmistakable sign of the importance attached to it by its editors. For generations of Shakespeare scholars this play was the epitome of Shakespeare's work. The play is concerned with tragic as well as comic themes, making it a play that defies easy categorisation. This lends it a fascination which has compelled the attention of critics and audiences alike ever since it was first performed.
Production Details
Letterpress volume
Limited to 1,000 hand-numbered copies
Hand-bound in goatskin leather, blocked in gold with hand-marbled paper sides
Gilded top edge, ribbon marker
16pt 'Monotype' Baskerville, with Caslon display
Set in hot metal and printed letterpress on mould-made paper
Oxford University Press text under General Editor Stanley Wells
14˝ x 10¾˝
Commentary volume
This includes the text of the play with full explanatory notes
Bound in buckram
8¾˝ x 5¾˝
Presentation box
Bound in buckram
15˝ x 11˝ x 2¾˝
Shakespeare's farewell to the stage?
Oh, wonder!
How many goodly creatures are there here!
How beauteous mankind is! O brave new world,
That has such people in 't!

Act 5 Sc.1
The Tempest was Shakespeare's last play. After 1611, other than contributing occasionally to Fletcher's plays for the King's Men, Shakespeare appears to have retired from the stage. For many readers, it has been tempting to identify Prospero, the ageing magician who resigns his powers, with Shakespeare, the playwright who is also leaving 'the great globe itself' and all 'this unsubstantial pageant'. Prospero is a kind of playwright, putting on a 'masque' and manipulating all the characters to play their parts in his dramatic plan.
The moment when Prospero offers to break his staff is one of great ambivalence. Do we rejoice at his return to political power or mourn the loss of his magical powers? Shakespeare too, retiring to the comfortable wealth of his property and business interests in Stratford, might well have missed the applause he alludes to so feelingly in the epilogue: 'And my ending is despair/ Unless I be relieved by prayer'.
A play whose themes have never dated
Shakespeare's age was one of exploration. The New World, as described in the books we know Shakespeare read, seemed at once a paradise and a savage wilderness. The inhabitants had equally contradictory reputations. Many commentators have perceived in Miranda and Prospero's attitude to Caliban a reflection of European views on slavery and colonisation.
Yet Shakespeare gives Caliban some of the most powerful lines in the play – his articulate defence of Prospero is almost heroic, while his speech 'Be not afeared. The isle is full of noises' displays a far from 'monstrous' lyricism and sensitivity. Usurpation and betrayal run throughout the play: First Antonio takes Prospero's dukedom, then Prospero rejects Caliban's claim to the island and lastly Stefano attempts to make himself 'king o'th'isle'. Shakespeare surely invites us to make comparisons – and judgements – between them.
Creating The Letterpress Shakespeare
Since the First Folio in 1623 there have been countless editions of Shakespeare's works. The Folio Society wanted to do something unprecedented: to design an edition so pure, so simple, that the beauty of the text could be fully appreciated - an edition that would be as timeless as the text itself.
What would the ideal version of Shakespeare's works look like? What would result if simplicity and elegance were the goal rather than the dictates of fashion and cost efficiency?
These were the questions we asked ourselves when we embarked on our Letterpress Shakespeare series in 2006. The project was to occupy some of Europe's finest book designers, typesetters, paper-makers, printers and bindersfor eight years.
The starting point was the text. Rather than keep text and commentary together, we decided to put them into separate volumes. Out went the elements that clutter the page : footnotes and textual variants. All that was left was Shakespeare's words.
We decided to have the text printed by letterpress in 16-point Baskerville. The type is set in hot metal and impressed on thick, mouldmade paper. The margins are generous - over 6 centimetres - to allow the words room to breathe.
The result is a simple, understated design that is a delight to read and a pleasure to hold.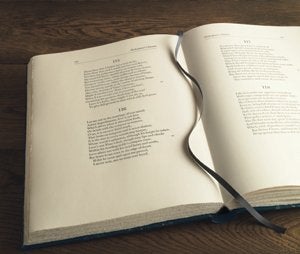 Inside the Letterpress Process
Stan Lane, a master Typesetter and Printer, talked to us about the process of printing our Letterpress Shakespeare. Lane has been setting type for The Folio Society for 25 years and is one of the few craftsmen still skilled in the fine art of letterpress printing. Although labour-intensive, letterpress has a depth and elegance that modern printing cannot replicate.
Jemma Lewis talked to us about the process of hand marbling paper for the Letterpress Shakespeare. In this beautiful process droplets of oil are floated on a special solution and combed into patterns so that each sheet of paper bears a unique design.

You May Also Like
The sheer visceral strength of this great tragedy has resonated through the centuries, ensuring it remains one of Shakespeare's most popular plays.