The Letterpress The Merry Wives Windsor
Limited to 1,000 hand-numbered copies
Written at the request of Queen Elizabeth, who wanted to see Falstaff again, this is the only Shakespeare comedy set entirely in England.
Was
CA$545.00
Now
CA$365.00
Why then, the world's mine oyster,
Which I with sword will open.

Act 2, Sc. 2
The Merry Wives of Windsor is traditionally supposed to have been written at the request of Queen Elizabeth, who wanted to see Falstaff again. Whatever the historical facts, she must have been pleased with this glorious romp when it was performed for her (as seems most likely) at Windsor Castle at the Feast of the Garter in 1597. The only comedy by Shakespeare set entirely in England, it is a joy for audiences but a trial for poor Falstaff, who is bundled into a laundry basket, forced to disguise himself as Mother Pratt, the fat woman of Brentford, and finally attacked by children dressed as fairies.
Production Details
Letterpress volume
Limited to 1,000 hand-numbered copies
Hand-bound in goatskin leather, blocked in gold with hand-marbled paper sides
Gilded top edge, ribbon marker
16pt 'Monotype' Baskerville, with Caslon display
Set in hot metal and printed letterpress on mould-made paper
Oxford University Press text under General Editor Stanley Wells
14˝ x 10¾˝
Commentary volume
This includes the text of the play with full explanatory notes
Bound in buckram
8¾˝ x 5¾˝
Presentation box
Bound in buckram
15˝ x 11˝ x 2¾˝
Creating The Letterpress Shakespeare
Since the First Folio in 1623 there have been countless editions of Shakespeare's works. The Folio Society wanted to do something unprecedented: to design an edition so pure, so simple, that the beauty of the text could be fully appreciated - an edition that would be as timeless as the text itself.
What would the ideal version of Shakespeare's works look like? What would result if simplicity and elegance were the goal rather than the dictates of fashion and cost efficiency?
These were the questions we asked ourselves when we embarked on our Letterpress Shakespeare series in 2006. The project was to occupy some of Europe's finest book designers, typesetters, paper-makers, printers and bindersfor eight years.
The starting point was the text. Rather than keep text and commentary together, we decided to put them into separate volumes. Out went the elements that clutter the page : footnotes and textual variants. All that was left was Shakespeare's words.
We decided to have the text printed by letterpress in 16-point Baskerville. The type is set in hot metal and impressed on thick, mouldmade paper. The margins are generous - over 6 centimetres - to allow the words room to breathe.
The result is a simple, understated design that is a delight to read and a pleasure to hold.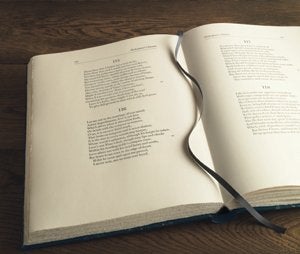 Inside the Letterpress Process
Stan Lane, a master Typesetter and Printer, talked to us about the process of printing our Letterpress Shakespeare. Lane has been setting type for The Folio Society for 25 years and is one of the few craftsmen still skilled in the fine art of letterpress printing. Although labour-intensive, letterpress has a depth and elegance that modern printing cannot replicate.
Jemma Lewis talked to us about the process of hand marbling paper for the Letterpress Shakespeare. In this beautiful process droplets of oil are floated on a special solution and combed into patterns so that each sheet of paper bears a unique design.

You May Also Like
Was

CA$545.00

Now

CA$365.00

A hilarious story of romance and rivalry thought to be Shakespeare's first play – penned before he came to London.

Was

CA$545.00

Now

CA$365.00

The sheer visceral strength of this great tragedy has resonated through the centuries, ensuring it remains one of Shakespeare's most popular plays.