This Folio Life: The story behind the cover of Bomber Command
For our new edition of
Bomber Command
, and Folio's first Max Hastings book, we wanted to find a striking image for our binding design. And researching at the Imperial War Museum, we found it. James Rose, the editor for this Folio edition, takes us through the significance of what it depicts.
Tom Walker, Publishing Director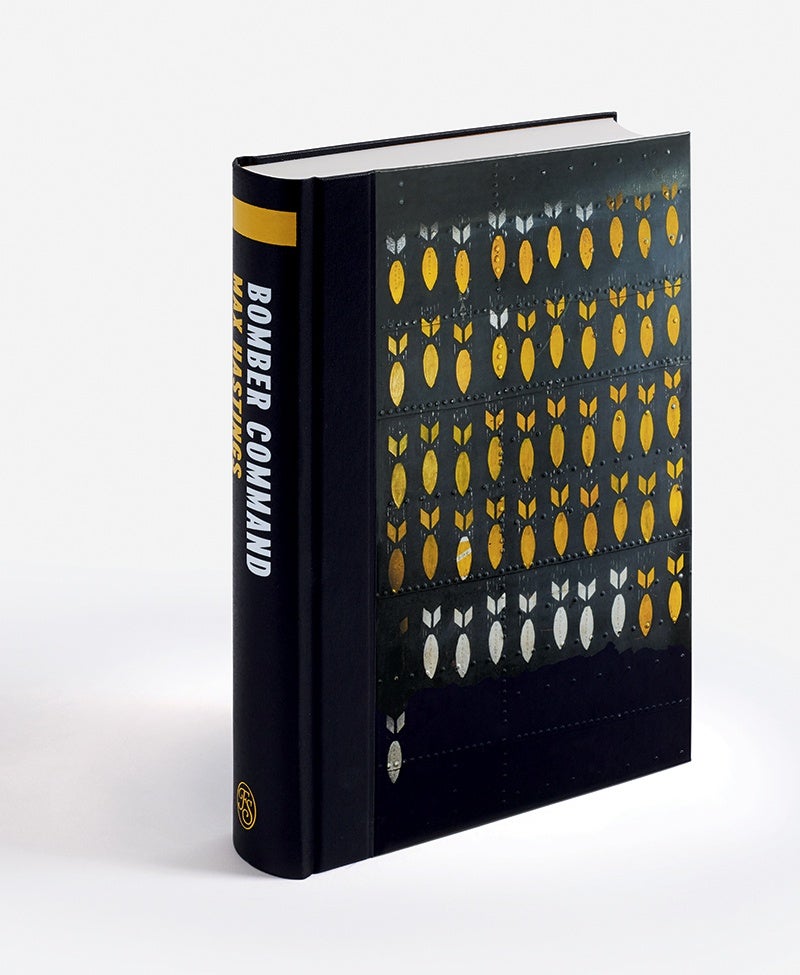 The cover image for our new edition of Max Hastings's
Bomber Command
, is not an illustration. It is not a new artistic commission for The Folio Society, nor a computer-generated picture. It is actually a neatly designed rendering of bombs falling from the sky – well, sort of. It is in fact a photograph. A photograph from London's Imperial War Museum, of a black-painted panel taken from the nose of a Second World War Avro Lancaster Bomber, decorated with falling bombs. The symbols themselves are original, made during the war by the plane's crew, and each represents a successful sortie against the enemy.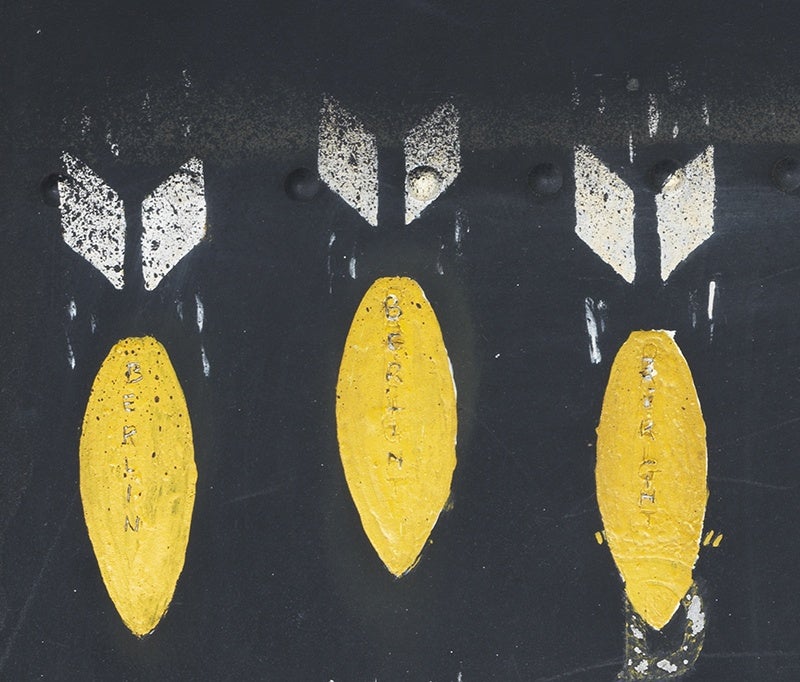 The use of these so-called 'Mission Marks', also called 'Victory Decals' or 'Kill Markings', began in the Second World War and were used by virtually every Allied and Axis force participating in the war. Fighters often used flags to denote the number and nationality of enemy aircraft shot down, whereas bombers used bombs to show the number and kind of raid that particular aircraft had been on.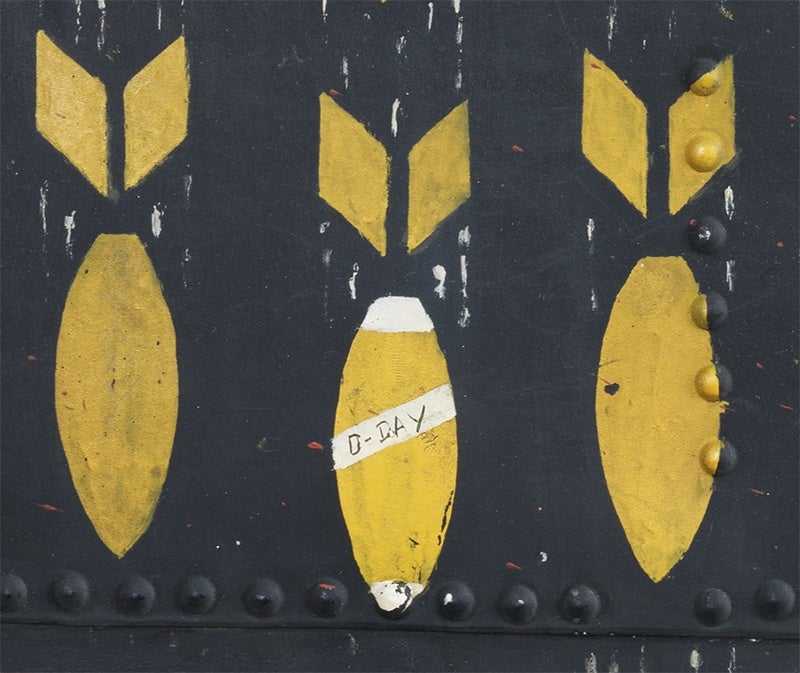 The panel we chose shows fifty-one bombs – that's fifty-one missions delivering up to 14,000lbs of high explosives to enemy towns and positions below. The yellow bombs indicate nighttime raids, whereas the white ones represent those made in daylight, and many have the destination written upon them: at least eight to Berlin, and one to 'D-Day'.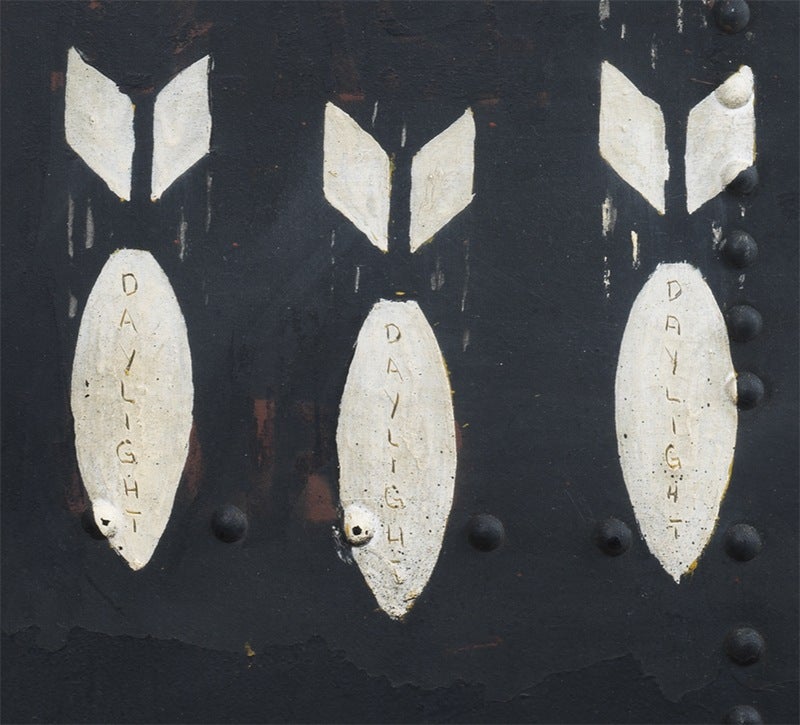 The image shows the sorties of just one individual aircraft but, more than that, it represents the whole of the Allied bombing campaign throughout the war. It also acts as a reminder that each crew made dozens of dangerous bombing runs - and each run brought death and devastation to those unfortunate souls below.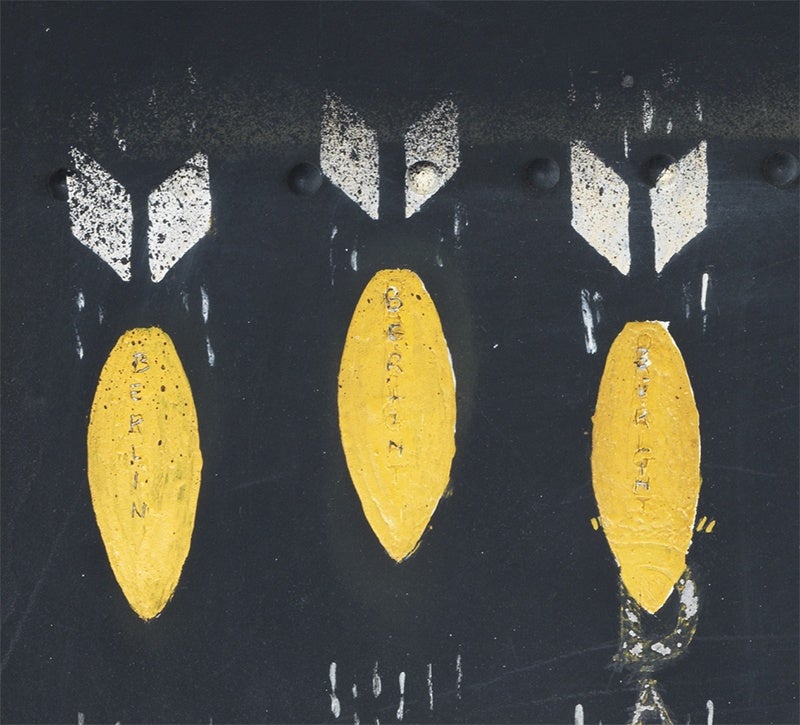 Find out more and order the Folio edition of Bomber Command.