The Folio Life: Illustrating the children's classic Black Beauty
Annette Hamley Jenkins was commissioned to illustrate our new, beautiful edition of
Anna Sewell's classic Black Beauty
. Her illustration style, not to mention her ability to draw horses, won my attention when judging the 2016 Book Illustration Competition, for Michael Morpurgo's
War Horse
 (in which Annette was longlisted). I caught up with Annette to find out a little more about her style, her process and life as an artist.
Sheri Gee, Art Director
SG: Although I first saw your work as part of the longlist in the Book Illustration Competition, I was really interested to find out later that you also practice as a fine artist. Can you tell me a bit about your work and what made you choose to enter the Book Illustration Competition? Did you study illustration?
Drawing has always been part of my practice as an artist, I studied Design and Illustration at Bath Spa University and began painting landscapes when I had a family; both my children had read and loved
War Horse
prior to the competition in 2016. My landscapes are in acrylics but I like to do illustrations in watercolour as the medium can be expressive and also carry detail in a smaller format. Drawing horses is particularly challenging and I anticipated that this could thin the competition out and improve my chances of being shown, indeed, during his presentation Michael commented wryly that a surprising number of entries did not feature a horse at all!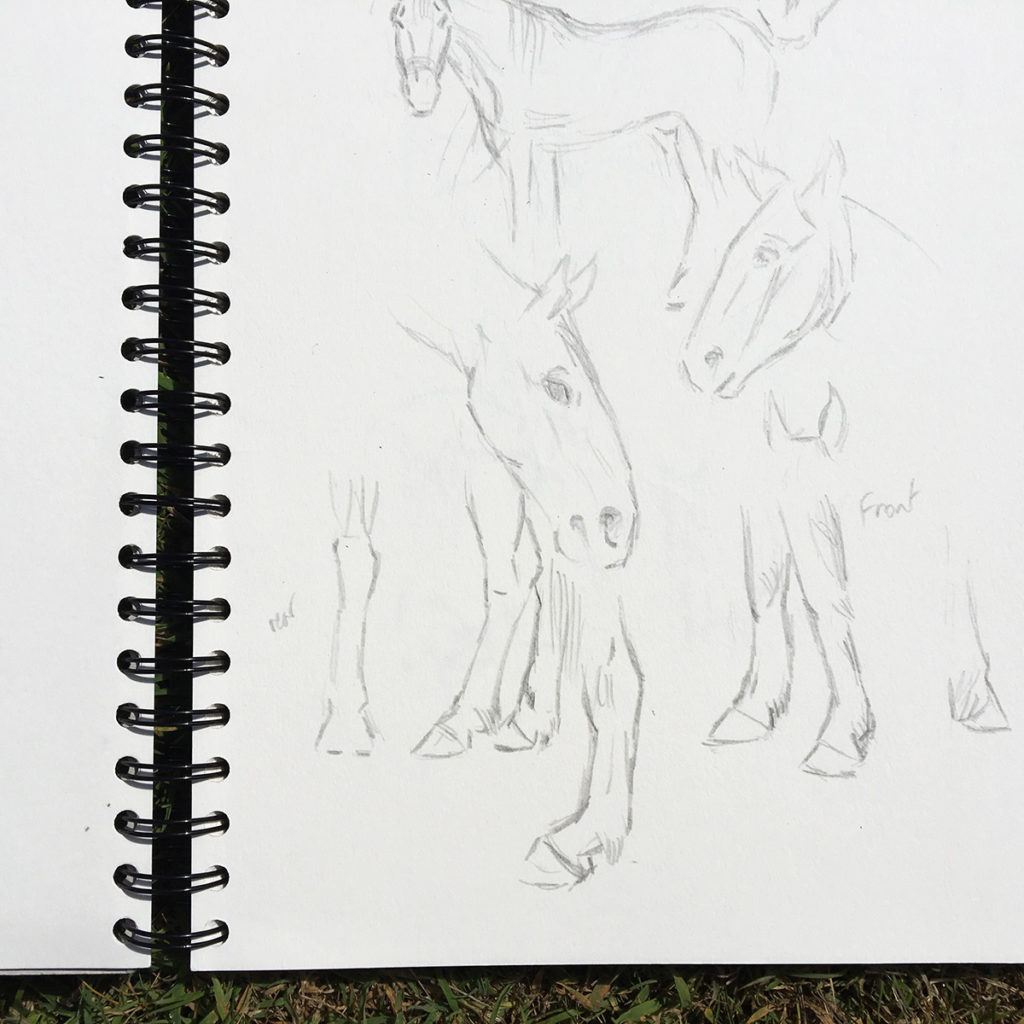 You're clearly good at drawing horses – did you grow up around them? Did you draw from photographs or life for this project?
My
War Horse
submission relied heavily on accurate reference photographs, but when you got in touch regarding illustrations for
Black Beauty
I knew that drawing from life would give the images greater veracity.  Horses are large powerful animals – I had been knocked down by a friend's horse when I was a teenager so even to stand near one always made me very anxious. However I was granted generous access for sketching by the owner of Poplar Park, (a riding school in Suffolk), so then I was committed!  The horses there were very placid and in taking the time to observe them it was easy to see they had different temperaments, just like the horses in
Black Beauty
. The riders and stable hands often offered me nuggets of information, one describing horses as 'overgrown toddlers' after hers harmlessly knocked over a broom three times in a bid for her attention… they began to seem less threatening. After two weeks of drawing I found myself surrounded by a group of horses and riders setting out on a hack and realised that the anxiety had left me – a very welcome side-benefit of the project. Anna Sewell was the first writer to give an animal the role of first-hand narrator so she obviously had great empathy for horses, so I have made sure the illustrations encourage the reader to empathise with the horses rather than the people in the story.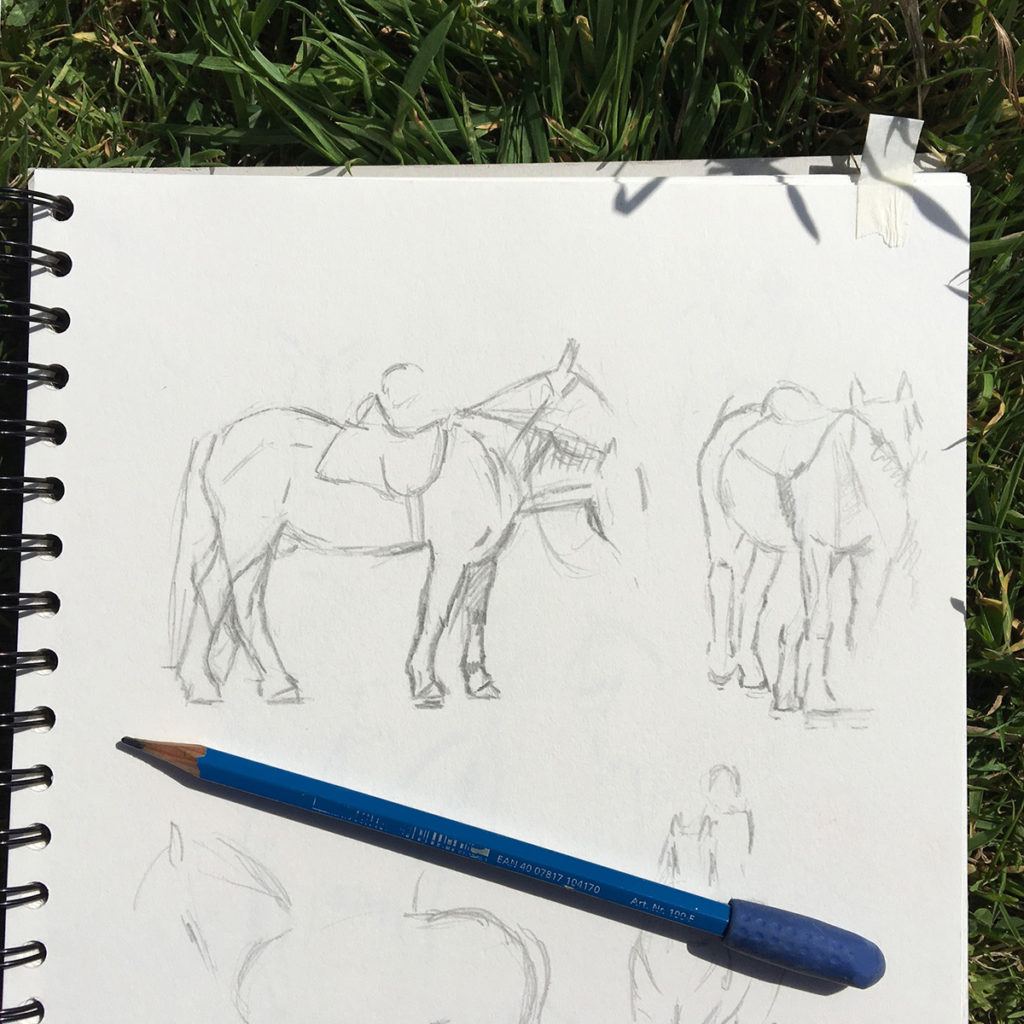 Tell me a bit more about your illustration process? What's your typical day as a freelance illustrator and artist?
I have quite an obsessive personality and assume that everyone has high standards so I do a lot of research around the topic; for
Black Beauty
I looked into the fashion of the era, the appropriate horse tack, carriages and locations, and even went so far as to visit Palace House in Newmarket, National Heritage Centre for Horse-racing. Sections of the story that triggered an image were worked up into a composition with details provided by the research, then there was much drawing, re-drawing, painting in watercolour, re-painting, a bit more research, scanning and digital re-touching to get the mood just right; and I had the feedback from you and the editor at Folio Society to keep me on track.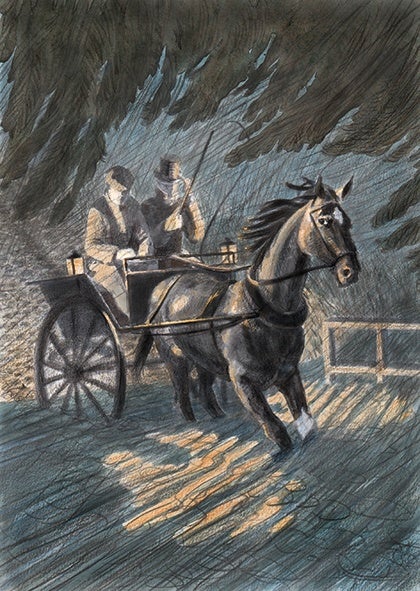 What is the dream book you'd love to illustrate?
Haroun and the Sea of Stories
by Salman Rushdie – there are some fantastical characters that I would love to draw, such as beautiful Butt the Hoopoe, and stunning landscape scenes; the sun setting over the valley of K, swan boats on the Dull Lake … it would be a great excuse to get the book out and read it all over again!
What project are you working on next?  
Every year I take part in Artists' Open House in Dulwich so I sketch landscapes plein air for that, there's a few paintings in the pipeline in response to my regular stint in August at Wilderness Festival as their Sketch Artist - the aim is to enter them into national art competitions, and I'm currently working up a live sketch that I did at a wedding.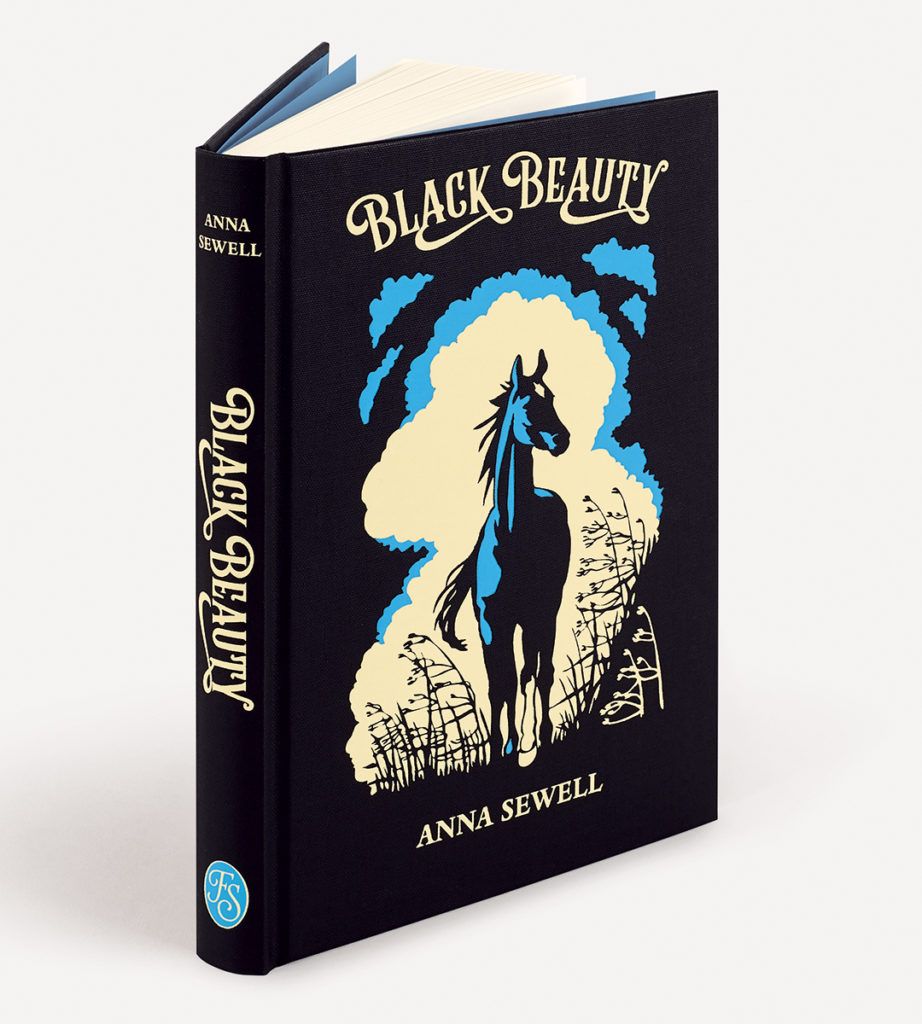 Find out more and order Black Beauty.